Fredrick Backman has been a favorite of mine since I first read A Man Called Ove two years ago. Shortly after that, I picked up My Grandmother Asked Me To Tell You She's Sorry, which I adored even more than I could've hoped. I've been intrigued by this Grandmother spin-off for a while, and thanks to the Book Challenge by Erin 8.0, I finally got around to reading my copy! Where Britt-Marie was just one in a cast of characters before, here she's starring in her own story.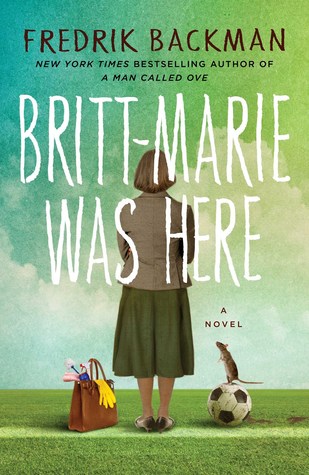 In Britt-Marie Was Here, she is attempting to remake herself as an independent woman, which is a bit difficult since she also happens to be in denial about the current state of her relationship with her husband. If you've read Grandmother (though you certainly don't have to to enjoy this book), you'll remember Britt-Marie as a very particular, proper woman. She is very comfortable when things are predictable and in order. In other words, not the situation she finds herself this time around.
I didn't warm to Britt-Marie as I did to Ove or Elsa and her grandmother, but the story still had a lot of the charm and heart I expect when I read Backman. One of the more heartwarming scenes was when Britt-Marie visits the home of two children on her inherited soccer team and is invited to join them for a taco dinner. I was surprised to see tacos in a Swedish novel but excited nonetheless - tacos are one of my favorite foods. It was a no-brainer that I'd make them to accompany this novel.
That being said, I wondered if perhaps tacos in Sweden were different than ours here in America, and with that, I dove into a short but intense period of research. This is how I learned about a Swedish tradition known as taco fredag, or taco Friday. Mexican food, including tacos, were introduced to Sweden by American TV and movies and became a "thing" because of a marketing campaign. Apparently, it's quite common to find a variety of Mexican ingredients in Swedish (and other European) grocery stores, and one Swedish food blogger confidently stated that "every family in Sweden has tacos at least once a month, and maybe a third eats them every week." (Link to that story here.)
It seems that because they are based on American tacos, those found in Sweden are quite similar to ours, with the exception of a few toppings we don't usually use here - cucumbers, pineapples and/or sweet corn. I don't really find any of those ingredients that "unusual." I've had cucumbers on my tacos before; when eating at my vegetarian aunt's house, they're often included among the other toppings. Corn is common in other Tex-Mex food so it also seems like a natural fit. And, I would definitely eat a spicy shredded pork taco with some pineapple on it, though I'm a fan of Hawaiian pizza, so maybe that one's a bit more controversial…
Anyway, I opted to include cucumbers as the featured Swedish topping of choice when I created my own taco night. I browned some ground turkey (though ground beef is a more typical meat selection), heated some refried beans, and chopped, shredded and diced various fresh vegetables to have as toppings. Of course, sour cream, salsa and guacamole were included as options as well.
I definitely recommend trying some of these toppings yourself - cucumbers add a different texture with a nice crunch. The new Britt-Marie would encourage you to step out of your comfort zone - you never know where it will lead you!
Swedish Tacos
Ingredients
1 lb. ground beef or ground turkey
1 package taco seasoning (low sodium, if desired)
1 can refried beans
1 package (12 count) 6" soft taco shells
1 head of romaine lettuce, shredded
3-4 roma tomatoes, diced
1 medium cucumber, diced (see notes)
2 cups shredded cheddar cheese
salsa, sour cream and guacamole
Directions
Brown the ground meat in a skillet, making sure to break it up as it cooks.
While the meat browns, heat the refried beans in the microwave or in a pan on the stove.
Just before you're about to serve, heat the taco shells between two damp paper towels in the microwave for about 20-30 seconds. (You may also heat them in a dry pan on the stove, but that will take a bit longer.)
Allow guests to assemble their own tacos using the ingredients. Enjoy!
According to my research, Swedish tacos are very much based on the American (or Tex-Mex) style of taco. The primary difference is the addition of toppings such as cucumber, pineapple or sweet corn, which are not generally found on American tacos. Feel free to substitute cucumber for pineapple or corn, or use all three!
This post contains affiliate links. Full disclosure here.