Today's blog post actually started three weeks ago when I read an NPR article called "The Friendship Bread Project: Can Baking Promote Unity In A Divided World?" The idea they discuss - that food can bring people together - is one I typically subscribe to and is one that prompted Darien Gee to write her 2009 novel Friendship Bread.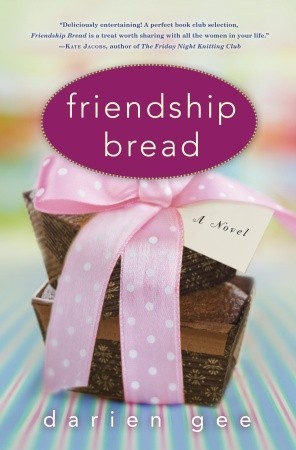 I was surprised and delighted to find that there was a whole book about friendship bread; naturally I had to check it out for myself. Before even starting the book, I was researching how to make starters and went down a bit of a rabbit hole, but I was already intrigued enough to make my own. It felt like a natural fit for this blog - it would just take a few ingredients and a little patience.
When I picked up Gee's book from the library, in fact, the cover alone was enough to prompt the librarians to start up a conversation about previous friendship bread crazes and wonder aloud if "any of those starters from the 70s were still hanging around." I made a mental note to bring them a loaf when I returned the book.
I wasn't sure what to expect from the novel - the cover evokes "chick lit" (and looks delicious), and I wasn't sure that a story revolving around a baked good could have much substance. Happily, I was wrong about it lacking substance. For the most part, Friendship Bread follows Julia, who discovers friendship bread when a mysterious gloopy bag appears on her front porch; Madeleine, the owner of a tea salon; and Hannah, a former concert cellist who's new in town. The three of them form an unlikely bond as the town is overtaken by its own friendship bread craze. On the whole, it was uplifting and optimistic and ends pretty neatly tied up, but it also explores the trials of loss and maintaining relationships quite realistically.
I began my starter the day I brought the book home, January 9. It was simple enough - dissolve a packet of yeast in warm water for 10 minutes before adding 1 cup of flour, 1 cup of sugar and 1 cup of milk. (These three ingredients are key in starter care.) Then, let it sit for 10 days, mixing each day. It's important not to use a metal bowl or a metal spoon, but otherwise caring for a starter is pretty forgiving. (I forgot to stir it for two days and it turned out fine!) You add the foundation ingredients on Day 6 and again on Day 10, when you divide up the mixture to give to friends - keeping some for yourself, of course.
I tried my best to divide the starter wisely - opting to spread it out rather than releasing it in a concentrated area. I connected with fellow Michigan-based book blogger Kerrie at Comfy Reading, who lives about an hour away from me, and bestowed a cup of starter on her. (Here is her post on the experience.) When she saw I had read the book, my mom (who also lives about an hour away, in a different direction) requested starter, so I saved some for her as well. I gave a cup to a supportive coworker, Cheryl, who's excited to care for it and bake together with her daughter. Finally, after a lot of research, I mailed a quarter cup to one of my best friends, Katie, who lives in Pennsylvania. Apparently, if you don't want to dry it and send flakes (I didn't), it's best to send in small quantities so there is still room for it to expand as it ships. I'm hoping the cooler weather and 2-day shipping will keep the starter from expanding too much within it's box.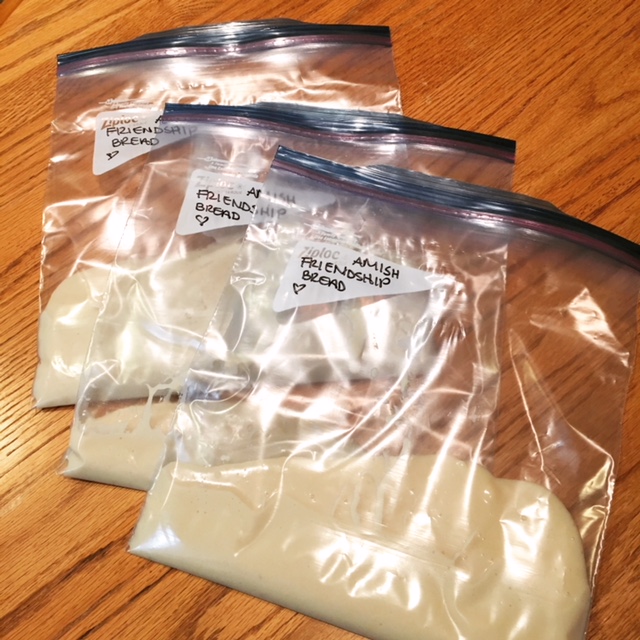 Admittedly, this was my first experience with a starter, and it gave me a whole new appreciation for the novel Sourdough, which I read last fall. I kept my starter in the oven, where it could keep cozy and grow with abandon. Thankfully, the friendship bread starter wasn't as rambunctious as Lois' sourdough starter, but mine still ended up yielding just under 7 cups, instead of the typical 4 cups. (I kept the extra for myself, not only to bake, but to keep feeding for another batch.)
Like most quick breads, the recipe for Amish friendship bread isn't too difficult. It's also quite flexible, as you can incorporate a variety of add-ins to suit your tastes. I had an abundant supply of dried cherries on-hand, so instead of making the traditional cinnamon-sugar bread, I wanted to make something with cherries and chocolate. I found a recipe on the Friendship Bread Kitchen site close to what I was looking for, so I adapted that recipe a bit to be more like what I had in mind.  
I began with 1 cup of my starter in a nonmetal bowl. To it, I added the ingredients as listed in the recipe. I only used 1 box of instant vanilla pudding, deciding to save the second box I bought for my second batch, but you can leave it out altogether if you don't want to use it. I mixed everything together using a wooden spoon and then divided the batter between the two loaf pans.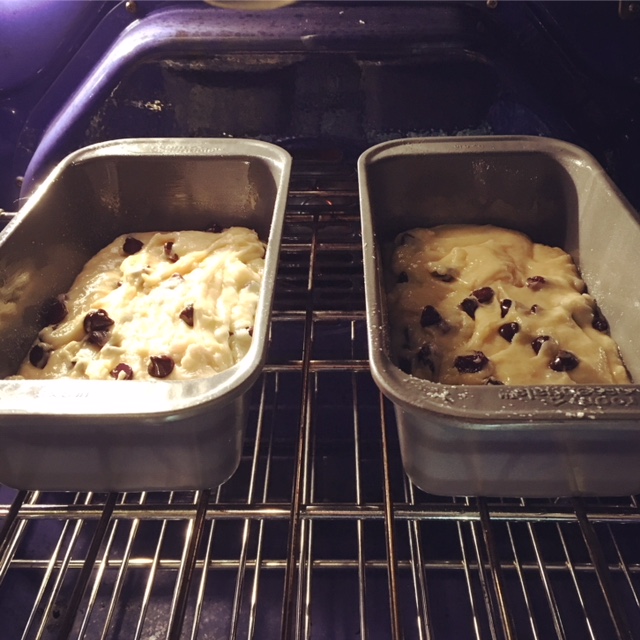 After baking, I allowed them to cool for a bit in the pan before moving them to a cooling rack and dusting with a bit of sugar (because I forgot to do it before I put it in the oven).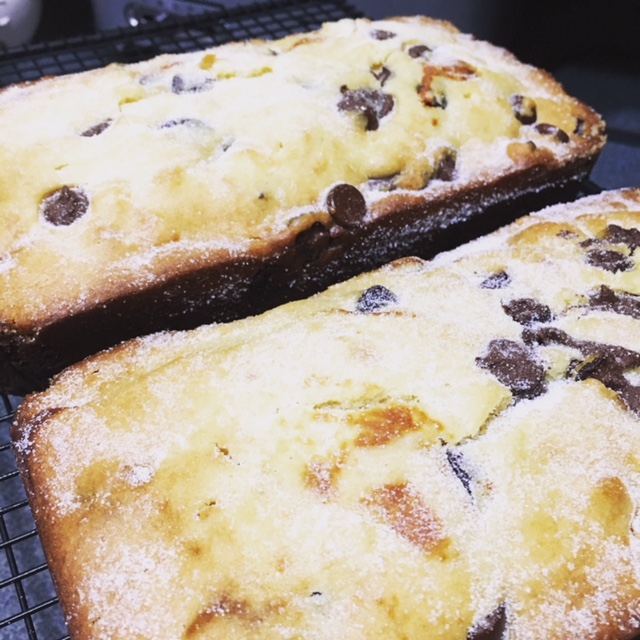 Being from Michigan, I already love cherries, and I thought the cherry-chocolate combination in this bread was delicious.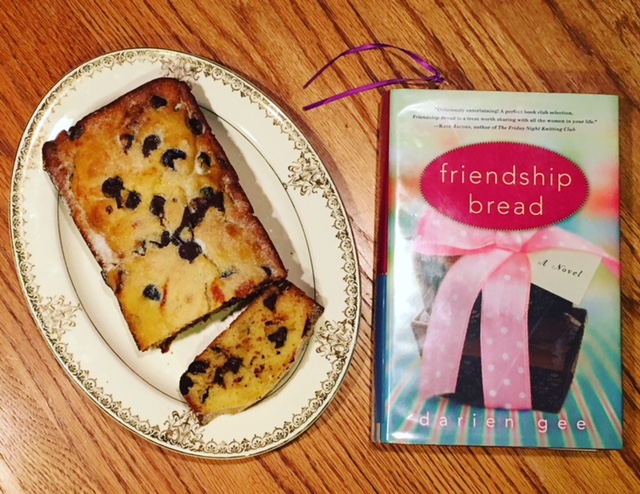 Well, that's it for today - I'm off to return my book to the library, along with a loaf of the bread for the librarians. I hope they like it as much as we did!
Have you ever made friendship bread or received a starter? I'd love to hear about your experience!
Cherry Chocolate Chip Amish Friendship Bread
Ingredients
1 cup Amish Friendship Bread Starter (recipe here, if you don't already have one)
3 eggs
1 cup oil
½ cup milk
1 cup sugar
½ teaspoon vanilla
1½ teaspoons baking powder
½ teaspoon salt
½ teaspoon baking soda
2 cups flour
1-2 boxes instant vanilla pudding
1 cup chocolate chips
1 cup dried cherries
up to ½ cup sugar, for dusting
Directions
Preheat oven to 325 degrees F.
In a large mixing bowl, add ingredients as listed (excluding sugar for dusting).
Grease two large loaf pans.
Dust the greased pans with ½ cup sugar.
Pour the batter evenly into loaf or cake pans and sprinkle the remaining sugar on top.
Bake for one hour or until the bread loosens evenly from the sides and a toothpick inserted in the center of the bread comes out clean.
This post contains affiliate links. Full disclosure here.