Celeste Ng's latest novel Little Fires Everywhere has been one of the hottest reads of the year (pun intended). As a big fan of her previous novel, Everything I Never Told You, I was excited to see what all the fuss was about when my hold recently came through at the library. Ng immerses us in the planned community of Shaker Heights, Ohio, a town she herself grew up in, and shines some light on the not-so-perfect lives of those that live there.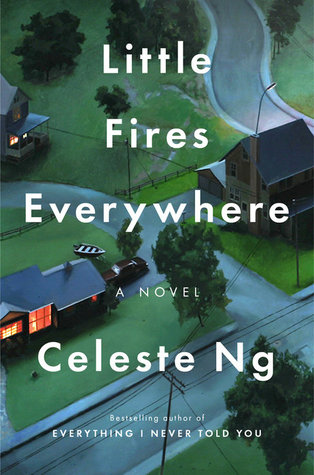 The story revolves primarily around the Richardsons, an exemplary Shaker Heights family, and Mia and Pearl Warren, a single mother and daughter who become their tenants. All four Richardson children - two girls and two boys, as varied as you could possibly imagine - are drawn to Pearl and her mother, who is an artist and a bit of a mystery. When the Richardsons' family friend attempts to adopt a Chinese-American baby, who was found abandoned, it divides the town and pits Mia against Elena, the Richardson matriarch, threatening to topple the precarious status quo.
Little Fires Everywhere is full of the quiet drama of everyday life but also tackles something bigger. As Elena digs deep into Mia's past and the Richardson children exist with little oversight, we're along for the ride, discovering secrets and taking sides along with the rest of them.
Today's recipe is inspired not only by the novel's title but this quote, which stood out to me as I read: "Sometimes you need to scorch everything to the ground and start over. After the burning, the soil is richer, and new things can grow. People are like that, too. They start over. They find a way." I decided to make a blackened chicken, traditionally covered heavily in spices and cooked on high heat on the stove top until the seasoning becomes dark.
I debated between two recipes, one from Pop Culture, a more classically prepared blackened chicken, and one from Gal on a Mission, which is baked. Though a baked version doesn't get quite as "black" as one cooked on the stovetop, I ultimately went with that option. It's just as flavorful and the fact that it's hands-off made it appealing when I was cooking it after work the other day. Additionally, I was easily able to roast some small potatoes and broccoli alongside it, completing the meal in 30 minutes, with minimal prep.
To start, I preheated the oven to 450 degrees F, and combined all of my spices in a small bowl. This recipe uses a lot of spices - salt, cayenne pepper, crushed red pepper, garlic powder, paprika, black pepper, onion powder, dried oregano and dried thyme - but thankfully, none of them are obscure; I already had them all in my cupboard.
I covered each chicken breast with generously with the spices, making sure each was thickly coated. If you're using 3 large breasts or 6 small breasts, you shouldn't have any of the spice mixture left. (I only used 2 breasts but still used most of it.)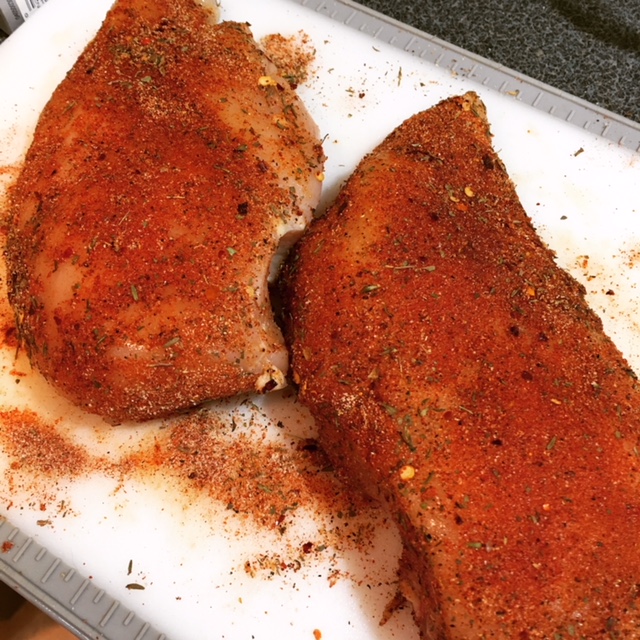 Then, I put the chicken in an 8x8 glass baking dish and popped them in the oven for 23 minutes. For the last 5 minutes of the bake time, cover the dish with foil and allow to continue baking while covered. My chicken breasts were definitely larger than average and needed to bake for an additional 10 minutes before they reached 165 degrees F.  
While these pictures probably aren't my best, the chicken was delicious, very flavorful and moist (thanks to the foil cover). To top it off, it's easy and hands-off, almost impossible to mess up.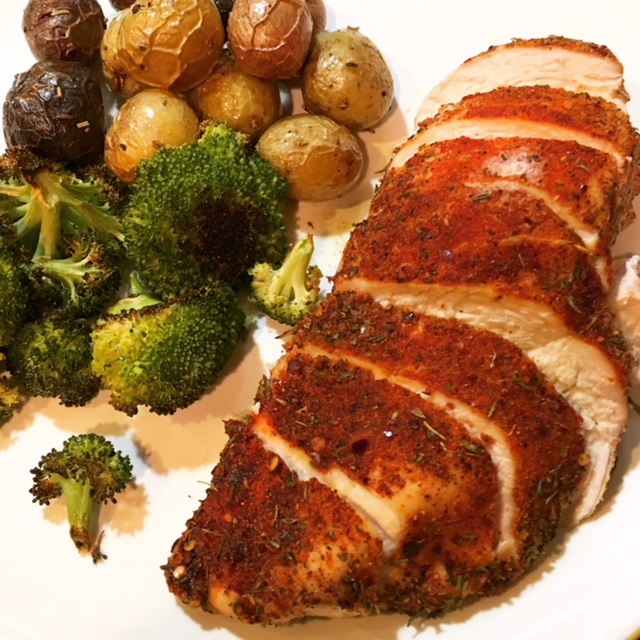 Baked Cajun Chicken Breasts
Ingredients
1 teaspoon salt
½ teaspoon cayenne pepper
¼ teaspoon crushed red peppers
1 teaspoon garlic powder
1 teaspoon paprika
½ teaspoon black pepper
½ teaspoon onion powder
½ teaspoon dried oregano
½ teaspoon dried thyme
3 large chicken breasts or 6 small chicken breasts
Directions
Preheat oven to 450 degrees. Grease an 8x8 baking sheet or dish. Set aside.
Mix together the salt, cayenne pepper, crushed red peppers, garlic powder, paprika, pepper, onion powder, dried oregano, and dried thyme in a small bowl.
Rub the spice mix onto the chicken breasts.
Bake for 18 minutes. Remove the chicken breasts from the oven and cover with aluminum foil and bake for another 5 minutes.
Once cooked through, allow the chicken to rest for 3-5 minutes before slicing to serve.
From:
Gal on a Mission
Notes: Check the temperature of your chicken to ensure it's cooked all the way through, particularly if you're using large breasts. Mine had to bake for an additional 10 minutes to reach 165 degrees F.
This post contains affiliate links. Full disclosure here.