Imagine a world where you knew exactly which day you would die but not how - on the morning of your death, you get a phone call with the warning and are instructed to make the most of it. That's the premise behind Adam Silvera's They Both Die at the End, a young adult dystopian novel. I devoured it in a single day.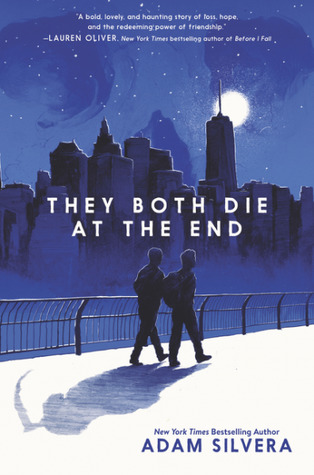 On the morning of September 5, a representative from Death-Cast calls both Mateo and Rufus - two teenage boys - and informs them that their End Day is here. They each set off to live their best life on their last day on Earth, not knowing exactly how or when it will come to an end. Interestingly (and one of the things I loved most about Silvera's concept), a whole economy has grown up around this knew End Day phenomenon, and it is through the app Last Friend, that Mateo and Rufus find each other.
Together, they set about tying up loose ends, experiencing new things and enjoying a last meal to fuel them through their adventures. Some may not appreciate knowing how it all ends before even picking up the novel, but don't let that hold you back. The ending was not what I was expecting, and I found that the anticipation of the end-point kept the momentum going as I read. If you enjoyed the movie Stranger Than Fiction, which I very much did, that's the closest approximation I can think of to knowing a plot point and not having it ruin the rest of the experience for you.
Of course, knowing a recipe would end up tagging along with my review, Rufus and Mateo's most memorable meal on their End Day was important to me. At a hole-in-the-wall diner, they order what I can only hope was an amazing grilled chicken salad (which wouldn't be my first choice, to be honest) and French toast with a side of French fries (now we're getting somewhere…).
The French toast obviously stood out to me - yes, grilled chicken salad can be very delicious, but I would really rather not endure a last day without carbs. For those of you who followed my Thanksgiving Readathon, you'll know I adored Molly Wizenberg's A Homemade Life. Coincidentally, in it, she included a recipe for her father's French toast, alongside a whole chapter describing its deliciousness. I knew this had to be the recipe I used here, because a last meal absolutely has to be the best. It did not disappoint, and I can only hope the boys' French toast was just as amazing.
To start, I dug out my cast iron skillet and glugged in some canola oil, making sure to completely cover the bottom, per Molly's instruction. Then, I cracked 3 eggs into a Pyrex pie dish, which I would ultimately use to coat the bread.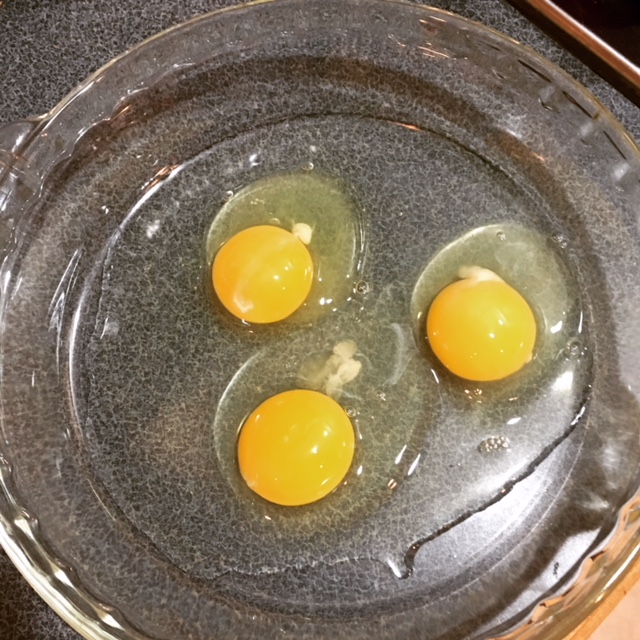 To the eggs, I added milk, sugar, vanilla, salt and nutmeg, whisking it all together. While the oil heated up, I added two slices of bread to the egg mixture, letting it soak for about 45 seconds or so on each side. (I unfortunately was unable to find a loaf of bread that wasn't pre-sliced, so they weren't cut diagonally, but I still think it worked well.)
Then, carefully, using tongs, I placed each slice into the hot oil. It bubbled as it should've, which was a good sign. I let it cook for between 1 and 2 minutes on each side.
When each pair of slices was finished, I placed them on a plate lined with paper towels. We had these for a quick dinner one night after work, but they were so easy, that I wouldn't hesitate to make them on a sleepy weekend morning. I haven't made a lot of French toast myself, but I have eaten it quite often at restaurants, and this was probably the best I've ever had. I can definitely see us adding it to the rotation, especially when we're looking for a little simple indulgence.
To finish, I dusted the slices with some powdered sugar, which is something I love from years of ordering French toast at restaurants. I'm actually always disappointed when it appears on my table without a white dusting. Of course, we also covered them with syrup and dug right in.
Last Meal French Toast
Ingredients
3 large eggs
1 cup whole milk
1 tablespoon sugar
1 teaspoon vanilla extract
¼ teaspoon salt
pinch of freshly ground nutmeg
canola or other flavorless oil, for frying
6 to 8 slices day-old bread, cut on the diagonal, about ¾ inch thick
pure maple syrup, for serving
powdered sugar, for serving (optional)
Directions
Break the eggs into a wide, shallow bowl or an 8-inch square Pyrex dish. Whisk the eggs to break up the yolks. Add the milk, sugar, vanilla, salt and nutmeg and whisk to blend.
Place a heavy large skillet - preferably cast iron - over medium-high heat, and pour in enough oil to completely cover the bottom of the skillet. Let the oil heat until you can feel the warmth radiating from it when you hold your hand close over the pan. To test the heat, dip the tip of a finger into the egg mixture - not the oil! - and flick a drop into the oil. If it sizzles, it's ready.
Meanwhile, when the oil is almost hot enough, put 2 to 3 slices of bread into the egg mixture, allowing them to rest for 30 seconds to 1 minute per side. They should feel heavy and thoroughly saturated, but they shouldn't be falling apart.
Carefully, using tongs, place the slices in the skillet. They should sizzle upon contact, and the oil should bubble busily around the edges. Watch carefully: with hot oil like this, the slices can burn more quickly than you would think. Cook until the underside of the each slice is golden brown, 1 to 2 minutes. Carefully flip and cook until the second side is golden, another 1 to 2 minutes. Remove to a plate lined with paper towel, and allow to sit for a minute or two before serving.
Repeat with remaining bread. If, at any point, the bread starts to burn before it has a chance to brown nicely, turn the heat back a little. You want to keep it nice and hot, but not smoking.
If desired, dust with powdered sugar. Serve with maple syrup.
Slightly adapted from: Molly Wizenberg's
A Homemade Life
, featured on pages 39 - 40 as Burg's French Toast
Recipe Notes: Bread should always be a day or two old. Make sure it has a soft, light crumb and isn't too dense. When pouring in the oil, make sure it completely coats the bottom of the pan.
This post contains affiliate links. Full disclosure here.