I recently found out about this year's Thanksgiving Readathon, put together by fellow book bloggers Ottavia at Novels and Nonfiction and Jackie at Death by Tsundoku - just in the nick of time! And I am beyond excited to participate! Thankfully, I had already taken off of work on Wednesday, November 22, which is the first day of the readathon, and am fortunate enough to have the rest of the time off as well.
I was already hoping to use the extra time away from the "everyday" to catch up on some reading and meet my 2017 goal, or get much closer to it, so this readathon couldn't come at a more perfect time.
Here's what I have on my TBR shelf, ready to go! I'm planning to start with Seven Days of Us, which is a cozy Christmas novel that sounds reminiscent of The Family Stone (one of my favorite holiday movies). I'm hoping it will be the perfect way to kickoff the season.
From there I'm not exactly sure where I'll go, but I've opted for a stack with both genre and topic variety to keep it interesting: The Readers of Broken Wheel Recommend (a book about books!), The End We Start From (a short environmental dystopia), How to Behave in a Crowd (a supposedly hilarious but dark family drama), and finally, A Homemade Life: Stories and Recipes from My Kitchen Table (a food memoir).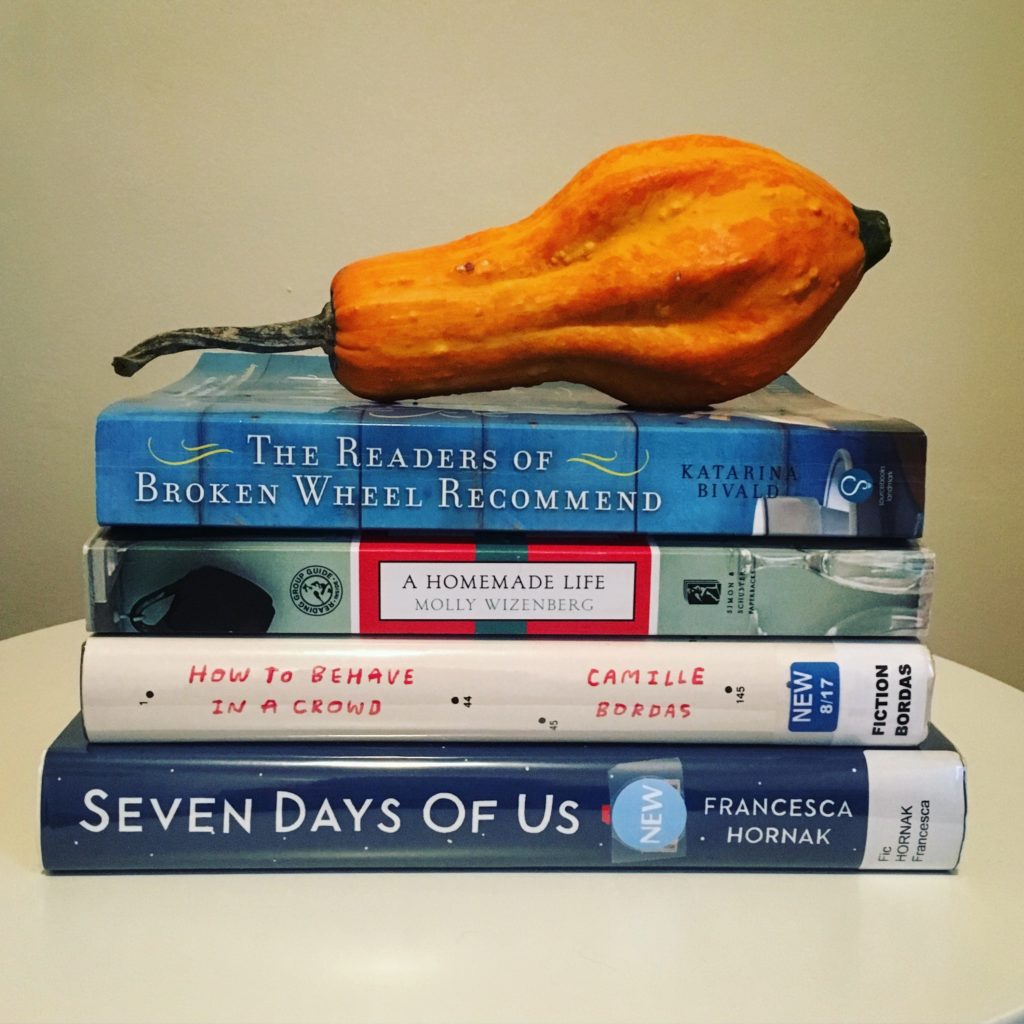 I'll keep you updated on my progress across my social channels (check me out on Facebook, Twitter and Instagram, if you're not already a follower). You may also want to follow the dedicated hashtag #ThanksgivingReadathon across all channels to connect with other bloggers and readers who are devouring books over the holiday.
On a Thanksgiving note, tomorrow I'll be posting the 10 Books I'm Most Thankful For as part of my usual Top Ten Tuesday participation. I'd love it if you'd stop by again to check them out and share which books you're most thankful for too!