One of my favorite things about Book of the Month (among the many) is the opportunity members sometimes get to read a book before it's released to the rest of the world. Ruth Emmie Lang's wonderfully unexpected novel Beasts of Extraordinary Circumstance, which will be released next week on November 14th, was one of the October selections, and honestly, I was planning to share this post with you then, but I enjoyed this book so immensely, I couldn't wait.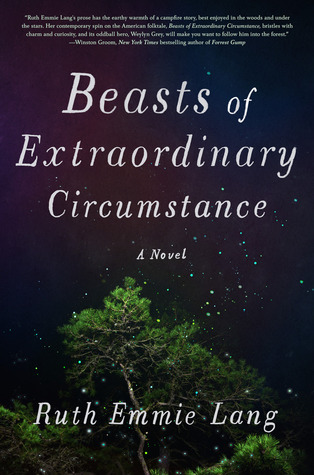 Lang's imaginative novel follows Weylen Grey, a young orphan who was raised by wolves, as he grows up and travels the country looking for his true home. Each section of the story (set in a new year and different location) is told by those around Weylen - young Mary who befriends him in the woods while making deliveries for her father; a teacher who is taken aback by the student refusing to sit in a desk; an inexperienced mayor whose town is faced with an impending hurricane.
Judge Steph Ortiz, who chose this book for BOTM, described Beasts as "so comfortable and uplifting" and said it was "exactly the book [she] needed right now, and it made [her] so happy [she] wanted to howl at the moon." After finishing the phenomenal The Rules of Magic, I was ready to be swept away again. A book that made me extraordinarily happy was exactly what I was looking for, and this one didn't disappoint!
Unlike many of the other books I recommend, which while amazing are often full of tough topics, this novel left me with a wonderfully cozy feeling, and seriously, if you haven't stopped and pre-ordered it yet, I'd suggest you do so now. It's an excellent debut; I can't wait to see what else Lang cooks up in the future.
Speaking of cooking (you had to know that was coming, right?), I decided to whip up a whimsical dessert to go along with this fairy tale novel. On one of her visits to the forest to see Weylen, Mary brings with her a freshly baked sponge cake, which they eat with hand-picked berries. I found a slightly fancy-sounding but down-to-earth-looking sponge cake recipe from Vikalinka and knew it would be a perfect fit.     
The only tweak I made to her recipe was to add some additional berries to the compote (and in decorating). In fact, I started by making the berry compote, adding the raspberries and blackberries to a small saucepan with a touch of water and some sugar. After about 15 minutes, I smushed the berries up a bit because there didn't seem to be much thickening occurring. I let it continue cooking for another 10 minutes or so before following the rest of the directions. I used my food processor to blend the mixture until smooth, pushed it through a fine sieve and set it aside.
To make the cake, I started by preheating my oven to 350 degrees F and greasing my cake pans. (I didn't line them with parchment paper, like the original recipe directs, but I didn't have any issues getting the cakes out of my pans once they were cooled.)
In a large bowl, I mixed the butter and sugar until light and fluffy, adding the eggs one at a time and mixing for about a minute each. Finally, I added the vanilla and lemon zest.
In a separate bowl, I combined my dry ingredients, sifting together the flour, baking powder, baking soda and salt. I added the dry ingredients to the wet ingredients, mixing well. The end result was a very thick batter (according to Vikalinka, it should be the consistency of buttercream frosting).
I scooped approximately half into each cake pan and then used my kitchen scale to ensure they were even (about 2 pounds each, including the pan). It wasn't specified in the original recipe, but I had some minor concerns they wouldn't spread out due to thickness, so I used a scraper to spread the batter as evenly as I could in each pan. Then, the cakes went into the oven for about 30 minutes.
Meanwhile, I made the mascarpone cream. I used a hand mixer to whip the chilled mascarpone with the powdered sugar and vanilla extract for about 2 minutes. To that mixture, I added the whipping cream and whipped for a few more minutes until it was stiff. I covered the bowl and put it in the fridge to stay cool while the cake finished baking and cooled.
Once the cakes were out of the oven, I allowed them to cool on a baking rack for 20 minutes, before turning them out so they could cool completely. I was a bit nervous about assembly (since I'm not usually the best cake decorator), but this cake features a very unfussy decor and is perfect for an imprecise decorator such as myself.
To start, I placed one of the cooled cakes on a cake stand. I covered that with a thick layer of the mascarpone cream (I ended up having a little bit left… it seemed like a lot when I was decorating).
On top of the layer of cream, I poured the berry compote and spread it a bit with a cake spreader. (Mine ended up being somewhat thinner than it appeared in the original recipe, but it still tasted delicious, and made for a lovely garnish on the plate afterward.) Atop the filling, I added the second cake and began the decorating process. I used some of the leftover cream on about half of the cake, used leftover berries to make a design and dusted the whole thing with a bit of powdered sugar.
The finished cake may not have been as gorgeous as I had hoped, but it still looked impressive (in my opinion). More importantly, it tasted amazing. This is definitely a cake I'd like to try again.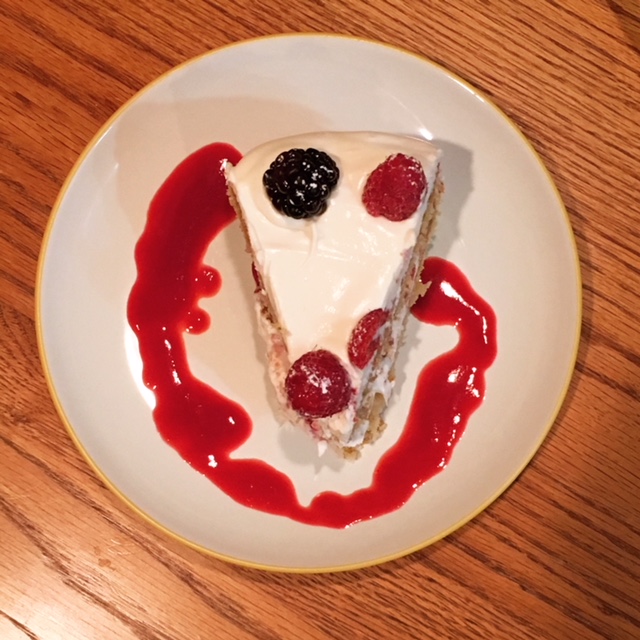 Sponge Cake with Forest Berry Compote
Ingredients
1⅕ cup blackberries and raspberries
⅕ cup sugar
2 tbs water
1 cup butter, softened and unsalted
1⅓ cup granulated sugar
4 eggs, large
2 tsp vanilla bean paste or extract, divided
1¾ cup flour
2½ tsp baking powder
½ tsp baking soda
½ tsp salt
zest of 1 lemon
1 cup mascarpone, chilled
¼ cup powdered sugar
¾ cup whipping cream
To make the forest berry compote
In a small saucepan combine berries, sugar and water. Smash berries and cook over low heat for 15 minutes until the syrup coats a spoon.
Remove from the heat and process in a food processor or a blender until smooth.
Push through a fine sieve to get rid of the seeds and set aside.
To make the cake
Preheat the oven to 350 degrees F, grease two 8" round cake pans and line with parchment paper, set aside.
In the bowl of a stand mixer cream softened butter with sugar until light and fluffy.
Start adding eggs one by one, whipping until well combined after each addition for about a minute.
Add 1 tsp vanilla bean paste/extract and lemon zest.
Combine sifted flour, baking soda and powder and salt in a separate bowl.
Add dry ingredients to the wet ingredients, mix well, stopping the mixer and scraping sides and the bottom of the bowl.
Divide the batter between two pans. Weigh them to get exactly the same cake in size.
Bake in the oven for 30-35 minutes or until cake tester comes out clean.
Remove from the oven and set on a wire rack to cool for 20 minutes, then remove from the pan and cool completely.
To make the mascarpone cream
Whip chilled mascarpone with powdered sugar and 1 tsp vanilla bean paste/extract for 1-2 minutes until well combined.
Then add whipping cream and whip for 2 more minutes until stiff.
Cover and refrigerate until ready to use.
Assembling the cake
Spread mascarpone cream on the bottom layer of the cake.
Pour the berry compote on top and gently spread with a offset spatula.
Top with another cake layer and dust with some powdered sugar for the traditional look. Optional: top a portion with leftover mascarpone cream and/or berries.
This post contains affiliate links. Full disclosure here.