Happy Fall! I'm Grace from A Literary Feast, here at The Hungry Bookworm as a happy guest writer. Megan and I discovered each other's blogs a few weeks ago and felt an instant kinship. Food in literature isn't the most prevalent topic on the Internet, but we both love writing about it! I'm so honored that she wanted to introduce my work to you, her readers. I hope you enjoy this post with these fall-perfect book and drink recommendations.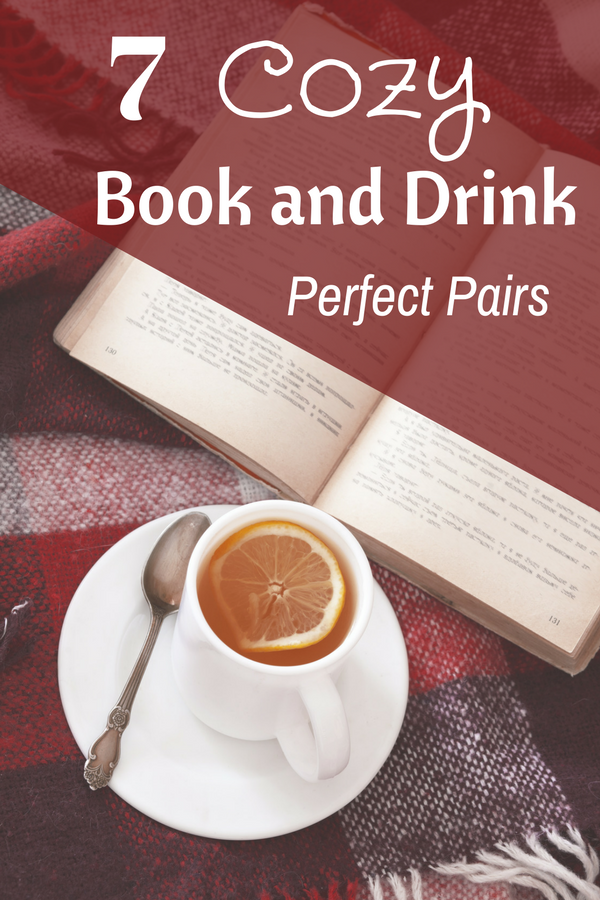 Any time of the year is a good time for reading. There's just something about fall, though. Cooler evenings, rainy days, falling leaves… doesn't it make you want to curl up by the fireside with a warm drink and a cozy read? Me too. That's why I'm giving you a list of the coziest books and drink pairings to carry you well into the winter.
1 The Story Girl by L.M. Montgomery
As much as I adore the Anne of Green Gables series, I prefer to read it in the spring. (Don't ask me why - maybe it goes back to my Spring Break binge-reads. We bookworms know how to party.) As a whole, though, I think that L.M. Montgomery's books are so perfect for cozy fireside reading. If you haven't read beyond Anne, you have so much to look forward to! I love The Story Girl for, yes, the stories, but also for the coming-of-age and turn-of-the-season themes. I haven't met one her books that I don't like, so here are a few more suggestions while we're at it: Pat of Silver Bush, Emily of New Moon, Kilmeny of the Orchard, and Among the Shadows: Tales from the Darker Side.
It's been a few years since I read The Story Girl, but I remember two things that influenced my drink pairing: Felicity loved to cook and there was an orchard on their property. I'm sure she would enjoy a fancy fireside drink. To pair with The Story Girl, try this Slow Cooker Caramel Apple Cider from Tastes Better From Scratch. Can you just imagine how amazing your house will smell?
2 The Guernsey Literary and Potato Peel Society by Mary Ann Shaffer and Annie Barrows
"I wonder how the book got to Guernsey? Perhaps there is some sort of secret homing instinct in books that brings them to their perfect readers." Although I can't give you specific details because so much water has passed under the bridge since I read this book, I consider it one of the coziest books I have ever read. Everyone I know who has read it has felt that the book's homing instinct is spot on. Written in letter form and celebrating the love of all things literary, this book will warm your heart on a chilly fall night.
The Guernsey Literary and Potato Peel Society is set in England on a small island. Islands are known for their fog, and England is known for its tea. I can't think of a better drink to pair with this book than a warm London Fog. Although the directions aren't proprietary, I chose this London Fog recipe by Yours Truly, G because of her custom infographic drawing. Super cute!
3 My Cousin Rachel by Daphne Du Maurier.
This is a book that I just reviewed on A Literary Feast, and it fits into this list perfectly. It's not a thriller nor is it scary, but it is a delicious Gothic mystery that should be read by flickering light. Set primarily in an old manor in Cornwall, England, this story is narrated by 24-year-old Philip who is green, arrogant and stodgy beyond his years but also utterly confounded and besotted by the first female to reside there in decades. A female who, incidentally, may (or may not?) be the cause of his beloved guardian's death. You'll change your mind more than once!
The food in My Cousin Rachel is traditional Cornish fare. Apples are prevalent, and their cider is prized. Pair this charming book with a mug of perfect wassail. Here's a Mulled Wine Wassail recipe with a light buzz from A Spicy Perspective (non-alcoholic version also available).
4 The Sugar Queen by Sarah Addison Allen
To be honest, this is the first book that came to mind when I was thinking of "cozy books." It's also the first book I read by this author, although I have since devoured them all. Sugary sweet without being saccharine, Allen's stories transport you into a world with a sprinkling of magic, where food goes beyond symbolic. Need I say more? You'll leave this book wearing glasses a shade or two pinker in hue.
You can't curl up by the fireside with a book called The Sugar Queen without adding some calories to your drink. With the picture of peppermints on the book cover, this book begs to be paired with a Peppermint White Hot Chocolate (this recipe from Creme de la Crumb).
5 Harry Potter and the Philosopher's Stone by J.K. Rowling (Call me names, but yes, I do insist on calling it by the original title.)
If I read Anne of Green Gables in the spring, fall is when the world of Harry Potter beckons. Fall heralds back-to-school, and what school is more exciting than Hogwarts? Harry Potter needs no introduction, but I am excited to say that this link leads to a new version of the first book. Or should I say "versions," because there is one for each Hogwarts House, with different covers and illustrations and extra content specific to each! (I may have a problem. I already own one boxed set as well as a set on my Kindle and already have plans to buy the new fully illustrated ones. Have you seen them? Look here! They're gorgeous.)
You must know where I'm going with this one: let's drink some butterbeer! I've tried making it cold before, and it turned out to be really good! We'll try a hot version this time. Creamy and butterscotchy - my mouth is watering already. Here's a Hot Butterbeer recipe courtesy of Feast of Starlight.
6 The Night Circus by Erin Morgenstern
A magical circus spun into existence by two dueling magicians. This book transports you into worlds of fancy among the highest stakes imaginable. You'll have to think existentially at times, but never fear - the author weaves the plot seamlessly, and you'll be as captivated as the members of the circus audience. If you love books that paint pictures in your mind, you will love the images that The Night Circus creates. This is the stuff that dreams are made of.
What to drink with such a magical book? I know what you're thinking, and I'm not going to do it. Whatever that crazy Unicorn Frappuccino thing was, that you can now find copycats for all over Pinterest, has to go AWAY. I get a sugar coma just looking at pictures. Such overkill. Blech. I have something else in mind. Here's a hot drink that (hopefully) isn't quite as sickeningly sweet, and looks like something that would be served at a fairytale night circus. I think Savor and Savvy has nailed it with this recipe for Pink Velvet Hot Chocolate.
7 Beauty: A Retelling of the Story of Beauty and the Beast by Robin McKinley
I saved my favorite for last. If you were to ask me what my favorite Disney movie, fairytale, or Broadway show was, I will mostly likely tell you that it's Beauty and the Beast. Belle is the perfect heroine: bookish, brainy, and adventurous. And this book by Robin McKinley is my favorite version of the story. Before I had kids and my reading time shrank down to the size of a "poor, provincial town," I reread this book every year without fail. Until I can resume that lovely tradition, I am passing it on to you! Be my guest.
For such a special book, let's take the time to make a special drink. Give a nod to the book's most familiar symbol with this Spiced Rose Latte from Brit and Co. You may have to plan ahead to have these ingredients on hand, but I think that the results will be well worth it! (Invite me over, too, because I would travel far for an evening of reading Beauty by the fireplace with a Spiced Rose Latte!)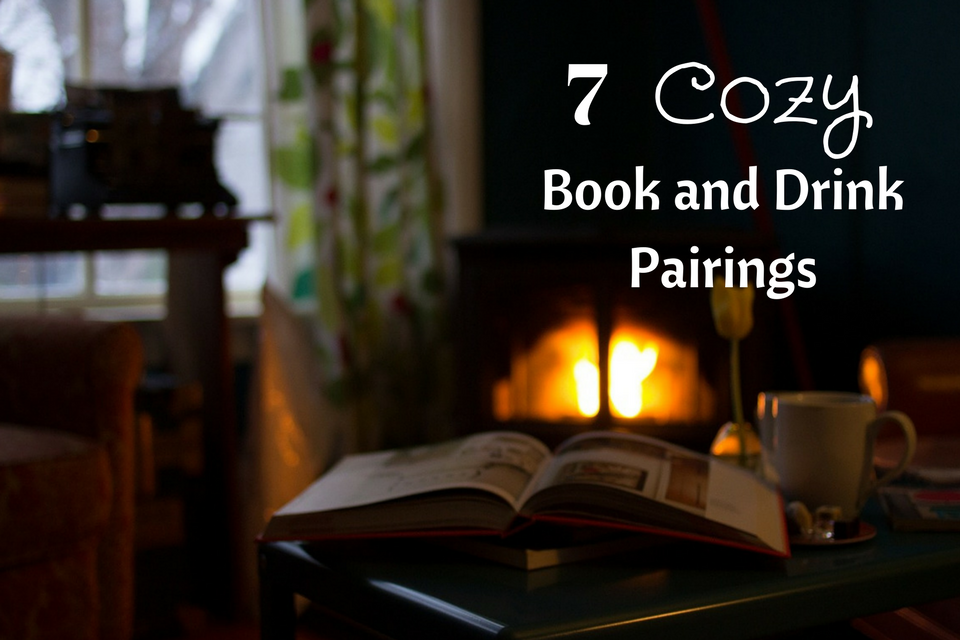 Hopefully this list has offered a few ideas for a blissful evening in. If you liked this post, I'd love to invite you back to my blog, A Literary Feast, for more food-and-book combinations you may enjoy! And, please add your own favorite fireside reads (or beverages) to the comments below.