Based on the title alone, Kitchens of the Great Midwest seemed like a book I, lover of food, resident of the Midwest, would thoroughly enjoy. The Goodreads description also seemed promising: "When Lars Thorvald's wife, Cynthia, falls in love with wine--and a dashing sommelier--he's left to raise their baby, Eva, on his own. He's determined to pass on his love of food to his daughter--starting with puréed pork shoulder. As Eva grows, she finds her solace and salvation in the flavors of her native Minnesota...Each chapter in J. Ryan Stradal's startlingly original debut tells the story of a single dish and character, at once capturing the zeitgeist of the Midwest, the rise of foodie culture, and delving into the ways food creates community and a sense of identity. By turns quirky, hilarious, and vividly sensory, Kitchens of the Great Midwest is an unexpected mother-daughter story about the bittersweet nature of life--its missed opportunities and its joyful surprises." I tracked it down, dug right in and...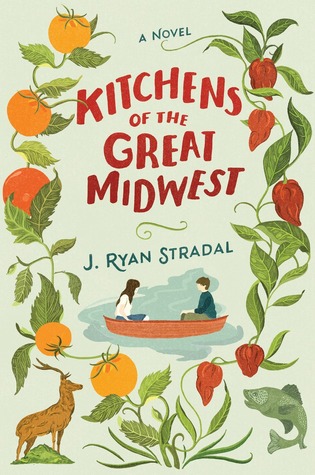 If you don't already know where I'm going with this, I'm sorry to say, I didn't thoroughly enjoy it, or really like it all. I think it's one thing if a story doesn't live up to the hype - in this case, I'd heard good things and it had almost a 4.0 on Goodreads - but it's another thing entirely if the blurb is completely mismatched with the story that's actually told.
In the end, one of the chapters I enjoyed the most was the one featuring Pat Prager, a very Midwestern mom who enjoys cooking for a crowd and does so from the heart. I also thought this chapter provided a stark contrast between the world Eva now cooked in and the world of everyday Midwestern food. In Kitchens, Pat is locally famous for her wonderful, award-winning peanut butter bars that sounded amazing even on the page. I knew I had to make them too.
Though they were very central to the story, no recipe was included, so I found a 5-ingredient recipe from Chef Savvy that was no fuss and no bake - perfect for the warm weather we're somehow still having in October. True to Pat's tendencies, I also made them for a crowd; I brought them to work for a coworkers birthday. (And, yes, they were a hit!)
I started by melting the 2 sticks of butter the recipe requires in a large bowl.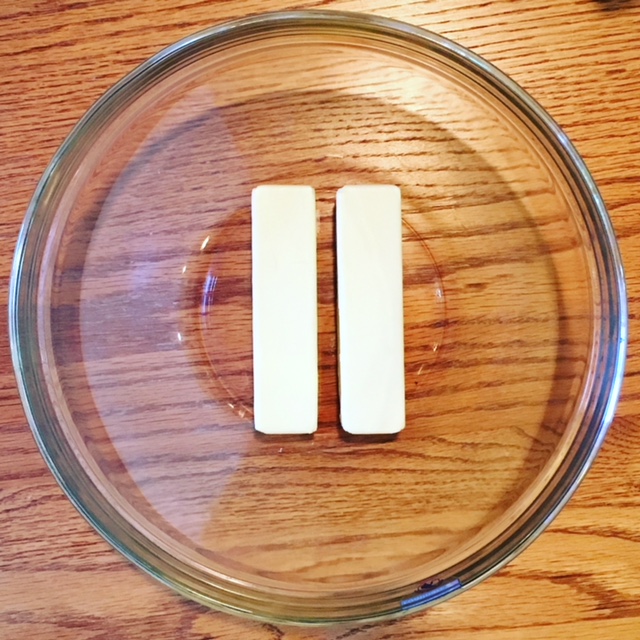 While that melted in the microwave, I got some aggression out by crumbling up 2 cups worth of graham crackers (this was about 12 crackers, or half a box). You can do this however you prefer - a food processor will provide the most consistently-sized and likely finest chunks - but I opted to toss them in a plastic Ziploc bag and crush them with my hands. (You could also use a rolling pin.) My chunks weren't consistent, but I liked the way it added texture to the finished product.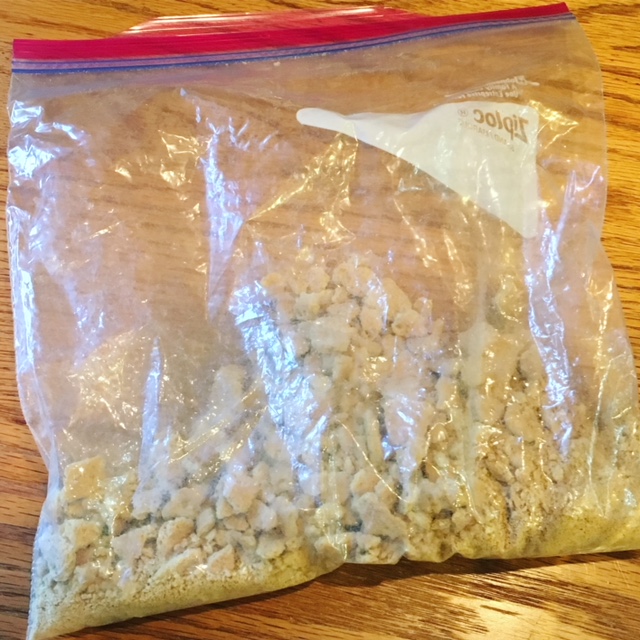 To the same bowl where I'd melted the butter, I added the crushed graham crackers, a cup of peanut butter and 1½ cups of powdered sugar.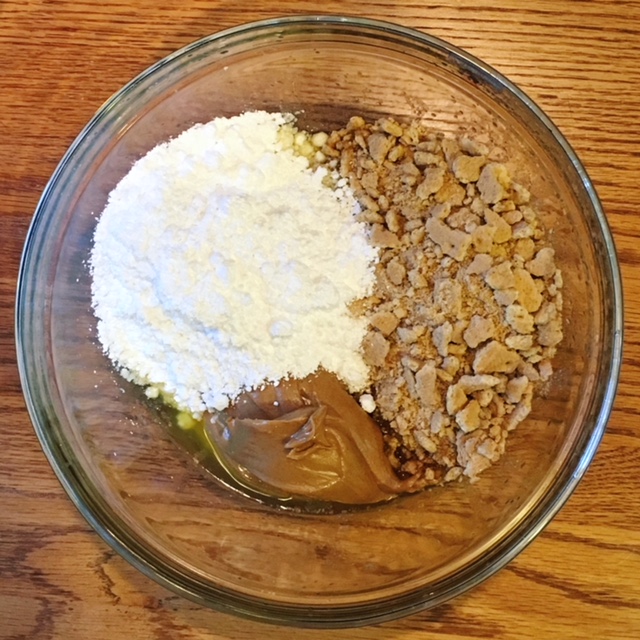 I combined them all well with a large spatula and spread the mixture into my prepared 9x13 pin. Then, in a smaller bowl, I added the other half cup of peanut butter and 1½ cups of semi-sweet chocolate chips. These too went in the microwave to melt.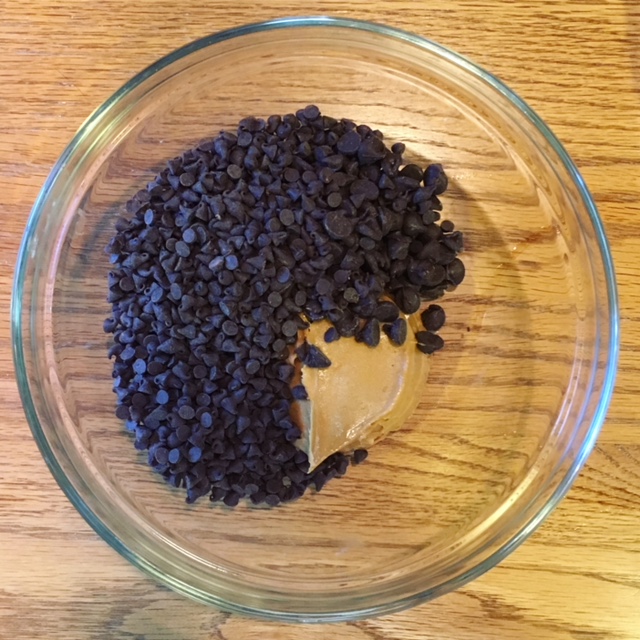 Once the chocolate was melted and combined with the peanut butter, I poured that mixture over the peanut butter mixture already spread in the pan. I smoothed it with a spatula and set it in the fridge to set.
After a few hours, I took the peanut butter bars out of the fridge to taste-test before bringing them to work the next day. (You can't bring a birthday dessert to work without first knowing that it's worth bringing.) This was a bit hard to slice right out of the fridge - you'll want to use a sharp knife, and make sure you have a good grip on the pan.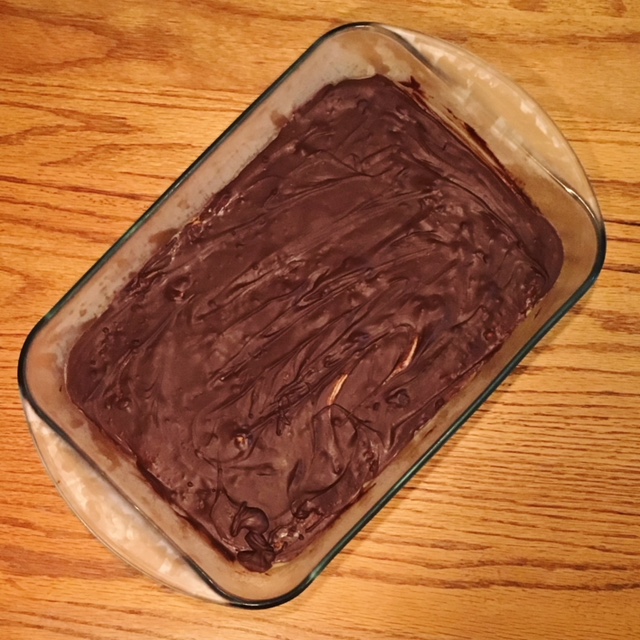 As I said before, these were an absolute hit at work, and luckily they were easy enough that I could bring them again! Keep this recipe in your back pocket - it's great for family get-togethers, potlucks or book clubs.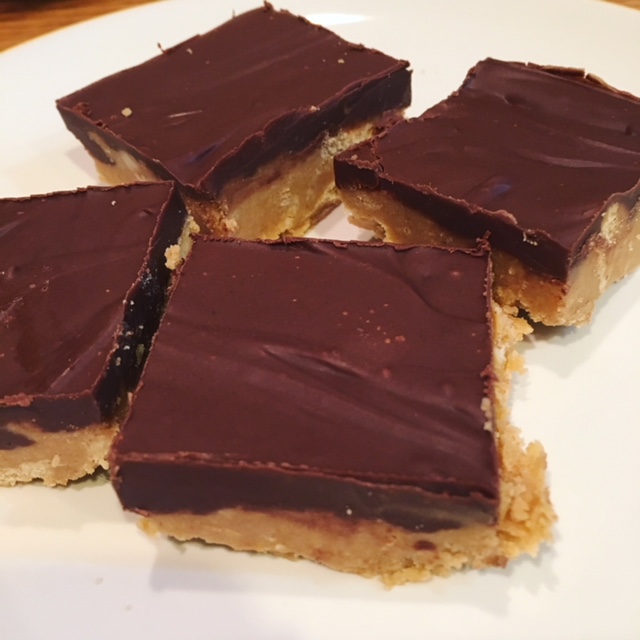 Peanut Butter Chocolate Bars
Ingredients
2 sticks butter (1 cup), melted
1½ cups powdered sugar
1 cup creamy peanut butter
2 cups graham crackers, crushed
½ cup creamy peanut butter
1½ cups semi-sweet chocolate chips
Directions
Spray a 9 x 13 pan with cooking spray. Set aside.
Add butter, powdered sugar, 1 cup of peanut butter and crushed graham crackers in a large bowl. Mix to combine and layer into the prepared pan.
Put the ½ cup of peanut butter and chocolate chips into a small bowl. Microwave in 15 second intervals until fully melted, stirring to combine as you go.
Pour the chocolate peanut butter mixture on top of the layer in the pan and smooth with a rubber spatula.
Place in the refrigerator to firm up for an hour.
When ready to serve, cut into squares and enjoy!