As you would probably expect, I read a lot when I was a kid. I remember reading my first chapter book (Black Beauty) in first grade, leading to a slight obsession with horses that continued into middle school. I have fond memories of my mom reading to my sister and me at night, with books like Stuart Little and The Borrowers that fueled my early interest in writing stories of my own. I also devoured The Baby-Sitters Club series and Nancy Drew novels, though honestly anything I could get my hands on was fair game. However, there were a few key books I'd missed (mostly because I watched the movies and/or didn't realize they were based on books in the first place) such as The Little Princess, The Secret Garden, Little Women, and The Chronicles of Narnia. I've rectified many of those misses in recent years, but A Wrinkle in Time was still outstanding.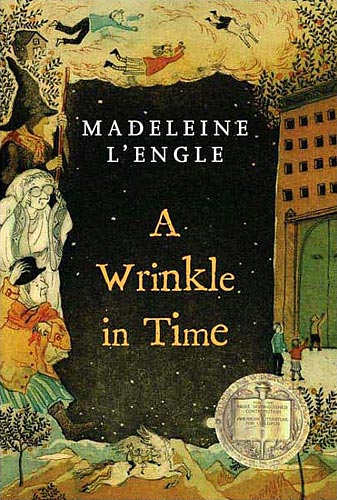 For those of you who don't know, there's a movie adaptation coming out next year starring Mindy Kaling, Reese Witherspoon and Oprah, which is what really prompted me to pick it up at last. That and the fact that I found out the main character is named Meg. She and her three brothers live at home with their mother, who is a scientist. Their father, also a scientist, is no longer home and (depending on who Meg is talking to, or perhaps it was how I read it) it's implied that he's just gone on some sort of scientific mission and will be back eventually, or that he's dead. Two of her brothers are twins and quite athletic, and Charles, her youngest brother, has a unique way of reading people. It is because of this skill that three mysterious beings named Mrs. Whatsit, Mrs. Who and Mrs. Which come into their home and ultimately take Meg, Charles and their neighbor Calvin on an adventure that will change their lives forever.
Since it's a children's book, it didn't take long to read - I think I read it in an afternoon. It was absolutely entertaining, but because it had quite a lot of science (real or otherwise) and had some really abstract concepts, I found myself wondering, "Is this something kids can really understand?" (If any of my readers who read this as a kid and as an adult can provide some perspective here, that would be helpful.)
I decided to make hot chocolate to go along with this book, because not only is it comforting, but it features prominently in the scene where Mrs. Whatsit first appears, on a dark and stormy night. It was actually quite dark and stormy the night I concocted the hot chocolate myself, so I think it worked out nicely. 🙂
I followed a recipe from Ashlee Marie for the World's Best Hot Chocolate and thankfully it was very straightforward. (Nothing more frustrating than just wanting something quick and comforting and finding out you don't have the right ingredients or it's a hassle to make.)
First, I combined the cocoa, sugar and salt in a saucepan. Then, I added the water and brought the mixture to a boil. I allowed it to boil for 1 minute, before adding the milk. Then, I continued heating the hot chocolate until it was the temperature we like - not too hot, not too cold. Probably a few more minutes is ideal, at most.
I poured it into our mugs and topped them with whipped cream, which I always like to cool it down and break up the richness of the chocolate. We settled down in the living room while the storm boomed around us and enjoyed!
World's Best Hot Chocolate
Ingredients
¼ cup cocoa
½ cup sugar
½ tsp salt
⅓ cup water
4 cup milk
1 tsp vanilla
Directions
In a saucepan, mix the dry ingredients.
Add the water and bring to a boil, keep boiling for one min.
Then add the milk and heat until it's the temperature you like.
Remove from heat. Add the vanilla, stir and serve. Top with marshmallows, whipped cream, or your preference. Enjoy!
This post contains affiliate links. Full disclosure here.