I'm a sucker for stories about sisters. I love the relationship between Elizabeth and Jane in Pride and Prejudice. Little Women is, of course, sister-centric and wonderful. I've never read the book, but whenever I watch In Her Shoes, I cry. So, it will come as no surprise that for my June BOTM I chose The Sisters Chase by Sarah Healy. I probably would've chosen it on the name alone, but it had the added benefit of coming highly recommended in my online book group as well.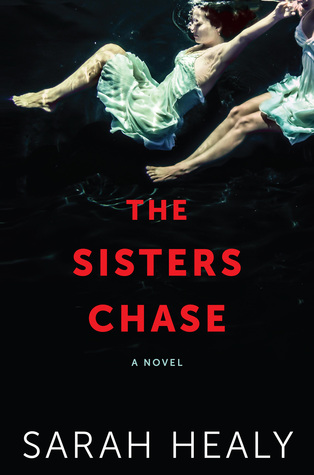 Mary and Hannah Chase grow up in a small beach motel owned by their mother, Diane. When a car accident leaves the sisters on their own, eighteen-year-old Mary becomes Hannah's guardian and takes it upon herself to do anything in her power to protect her. While Mary is at ease living a life in flux as they travel the country, Hannah aches for a real home where she can attend school and make friends. All Mary wants is for Hannah to be happy, but giving in may mean exposing a long-kept secret and risking an unbearable loss.
As an older sister, I definitely related to Mary and her willingness to do anything for her little sister, even if it seemed to be to her own detriment. Healy's pacing and familiarity with the characters - they felt so real - resulted in a well-crafted story that wasn't at all what I predicted. When I finished, it had me wanting to go back for a re-read.
Instead, I made some powdered donuts, like those the sisters' mother piled high on a plate each morning for the motel's guests. I wanted to bake them, since it's less messy and somewhat healthier, so it gave me the perfect opportunity to use the donut pans I've had since two Christmases ago (thanks to my new sister-in-law, Kelly!).
The last time I made donuts was in middle school home ec class, and I remember being freaked out by splattering oil and the cleanup being such a process. This was MUCH easier. So much so that I may start making donuts more often.
First, I mixed the dry ingredients together - flour, sugar, baking powder and salt. In a separate bowl, a combined the egg, milk, vanilla extract and melted butter. I added these to the dry ingredients and mixed together.
Then, using a spoon, I added the batter into my greased donut pans, filling them about halfway.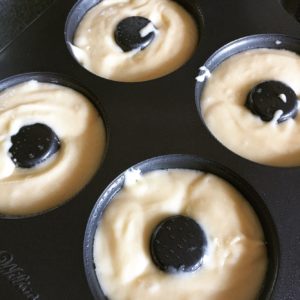 I popped them into a 425-degree F oven and let them bake for 12 minutes. I let them cool in the pan for about 10 minutes.
Then, I dropped them into a paper grocery bag two at a time with some powdered sugar and shook and shook until they were well coated. Honestly, this happened really quickly (a few shakes at most). It was the most fun part of donut-making by far.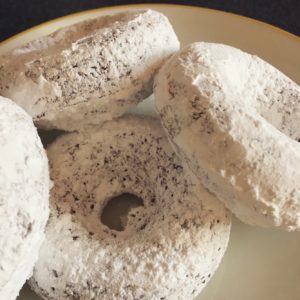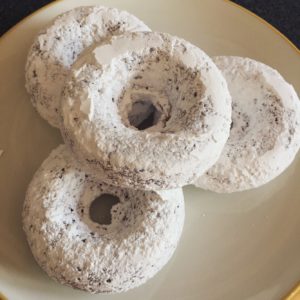 Everyone at work loved them, and I can't wait to try new and different flavors. I always love when a book leads me a recipe I can use over and over again 🙂 Hope you enjoy!
Baked Powdered Sugar Donuts
Ingredients
1¼ cups cake flour (see notes)
¾ cup granulated sugar
1¼ tsp baking powder
¼ tsp salt
1 large egg
¼ cup milk
1 tsp vanilla extract
3 Tbsp unsalted butter, melted
3 Tbsp heavy cream
1 cup powdered sugar, for coating baked doughnuts
Directions
Preheat oven to 425°F. Lightly grease doughnut pan; set aside.
In a medium bowl, add all of the dry ingredients (cake flour, granulated sugar, baking powder and salt). Stir until well mixed.
In a separate bowl, whisk together the egg, milk, vanilla extract, melted butter and heavy cream.
Add the liquid ingredients to the dry ingredients; stir until just mixed.
Spoon or pipe the batter into the greased doughnut pan. (Tip: Fill each doughnut circle about half full of batter.)
Bake at 425°F for 12-14 minutes, or until doughnuts begin to turn golden brown on the edges.
Let doughnuts cool in the pan.
Place powdered sugar in paper bag. Once doughnuts have cooled, shake doughnuts (one at a time) in the bag with the powdered sugar until well coated. Tap off any excess powdered sugar. Repeat with remaining doughnuts. Serve immediately. (Note: If you plan on serving these doughnuts later, store them uncoated in an airtight container. Shake them in powdered sugar just before serving.)
From:
Spiced Blog
If you don't have cake flour, which I didn't, and don't want to buy some just for this recipe, it's easy to make your own with all-purpose flour. For each cup of flour you need, take 1 cup of all-purpose flour, remove 2 TBSP and replace with 2 TBSP of cornstarch. Mix well to ensure it's combined. I used 1½ cups flour with 3 TBSP for this recipe (and discarded the remaining ¼ cup).
This post contains affiliate links. Full disclosure here.