My latest Book of the Month selection explored the concept of a utopian society - a nice change of pace from the other books I've been reading lately. In Perfect Little World, Isabelle is a teenage mother without the father in the picture or the support of her own family. Lucky for her, Dr. Preston Grind is currently casting for his new experiment in childrearing - The Infinite Family Project.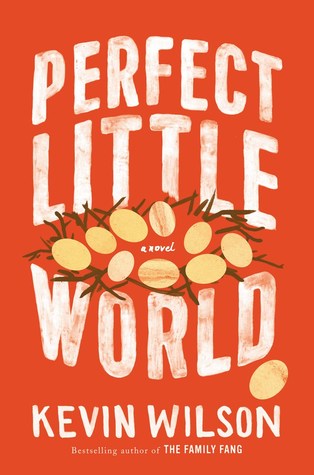 Designed as a utopia for raising children, The Infinite Family Project brings together 10 children and 19 parents. They live in a housing compound among the best experts in child development and raise the children together as one carefully-chosen extended family.
As the only single mother in the project, Izzy has a few obstacles to overcome, but she eventually finds her place among the other parents. She becomes an apprentice to the hired cook, learning new skills and taking pride in her work. When a magazine comes to do a profile on them, she impresses even herself with pickled deviled eggs topped with candied bacon.
To the reporter and photographer, the experiment may not seem as cultish as they had originally thought. But, as with any family, things aren't always what they seem to an outsider, and over the course of 10 years, the perfection Dr. Grind was seeking starts to show some cracks.  
Obviously, I seized on the opportunity to make my own pickled eggs and candied bacon and turn them into the masterpiece that Izzy served during the visit from the magazine. With Easter just around the corner, it seemed like a perfect fit. First, I learned how to pickle eggs with beet juice and how to candy bacon, but then I was ready to dive in!
Pickling eggs is pretty easy, and it's a great way to make the deviled eggs look more festive. For wary picky eaters, it didn't alter the taste all that much in this application, but added a bit of tang. Overall, it just made them better. 
I took my peeled, hard-boiled eggs and added them to a large jar. (If you don't have a jar, another container will work, but glass is preferred.) To that, I added my pickling liquid - beet juice, vinegar, salt and water boiled together - and let the whole thing sit overnight in my fridge.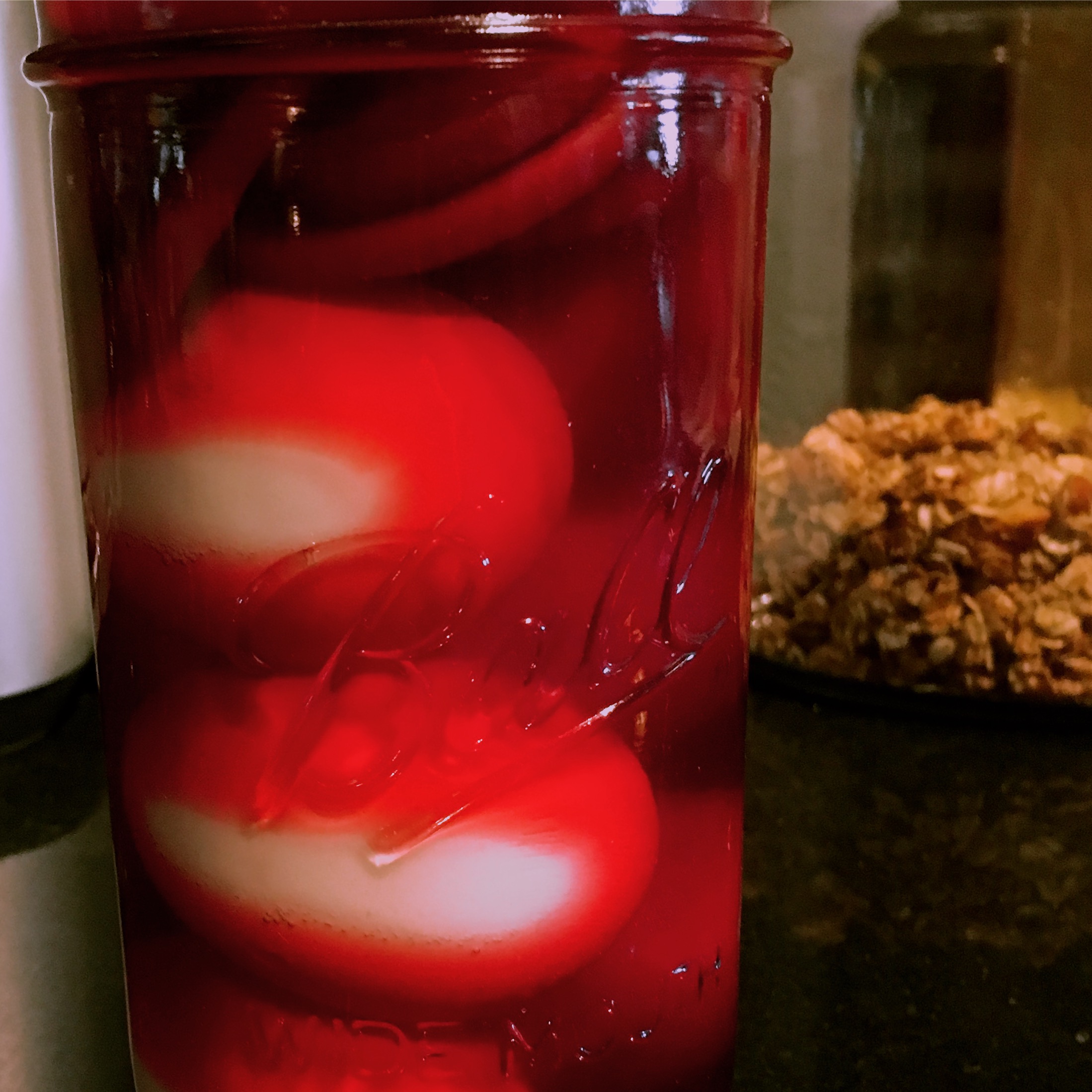 The next day, I started with my candied bacon, since cooking it low and slow as suggested took a while and could be done while I otherwise prepped the deviled eggs. I recommend following the link in the notes section of the recipe and only making one or two slices total, if you're making a dozen deviled eggs.
While the bacon cooked, I began working on the eggs. First, I cut them in half and arranged them on a plate.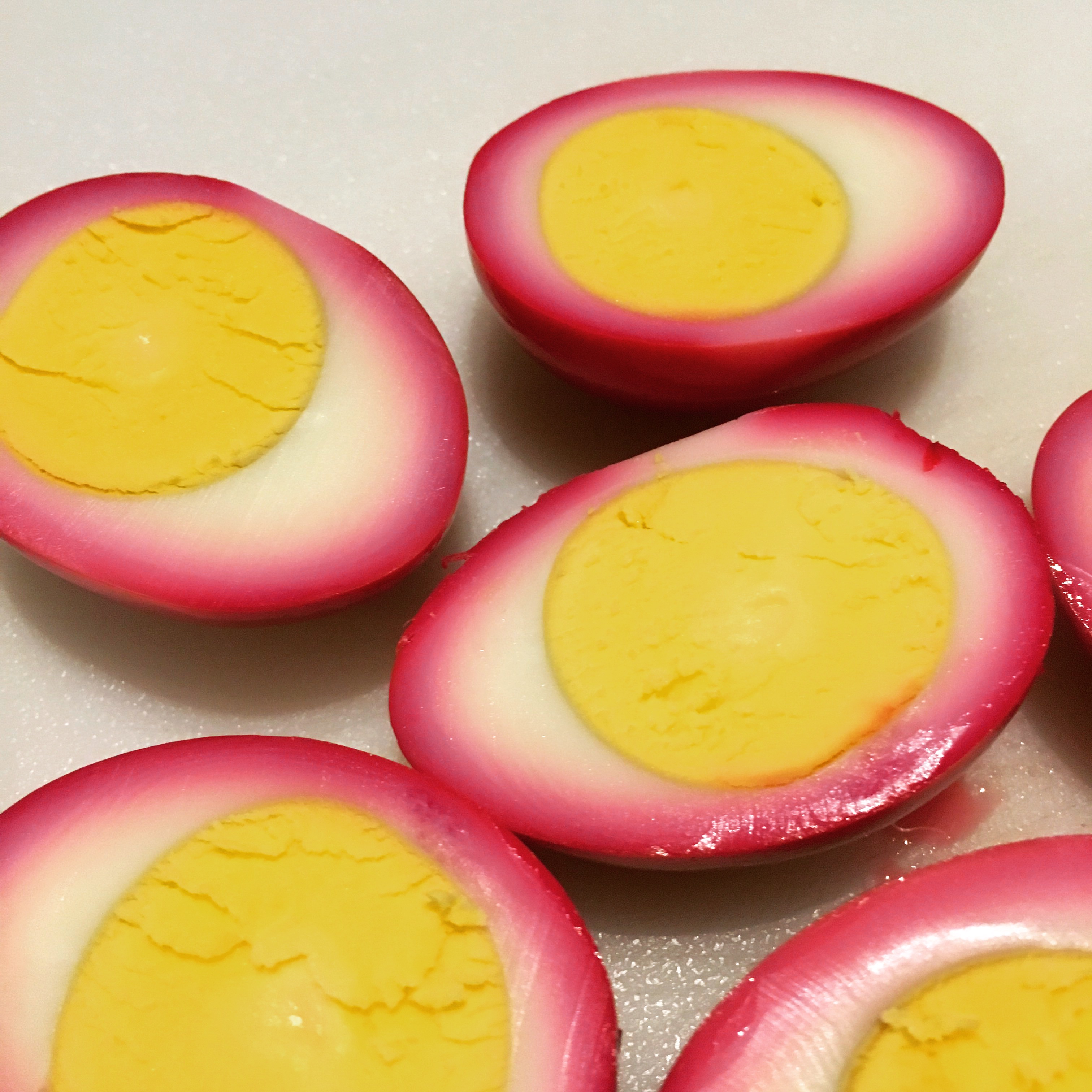 I scooped out the yolks and put them in a small bowl. To that, I added the mayo, vinegar and mustard. I stirred those together with a fork until most of the lumps were gone - this is especially important if you're going the piping route. Then I added a generous sprinkle of seasoned salt and a bit of freshly ground black pepper.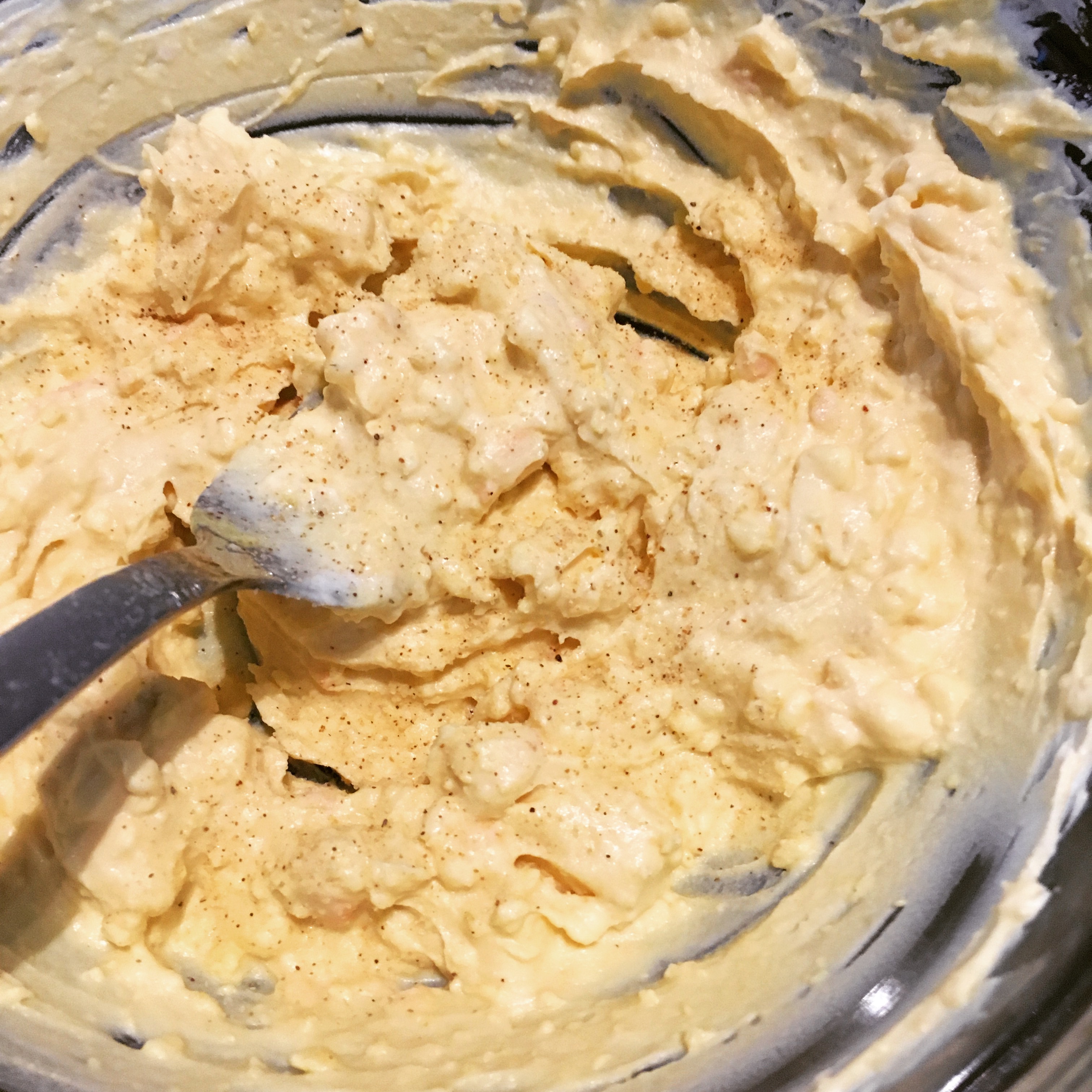 I used a piping bag in an effort to make the eggs look a bit more elegant, but feel free to use a spoon if you're not trying to impress anyone. (That's what I usually do.) Once the egg whites were filled, I added the finished candied bacon, which I cut into about half-inch sections.
Combined, the flavors complemented each other very well. The vinegar from the pickling helped to cut the richness of the deviled eggs and the candied bacon added an element of crunch and some sweetness to balance the tart. These lovely purple eggs will be a great addition to any Easter celebration or even a picnic as the weather warms up. Enjoy!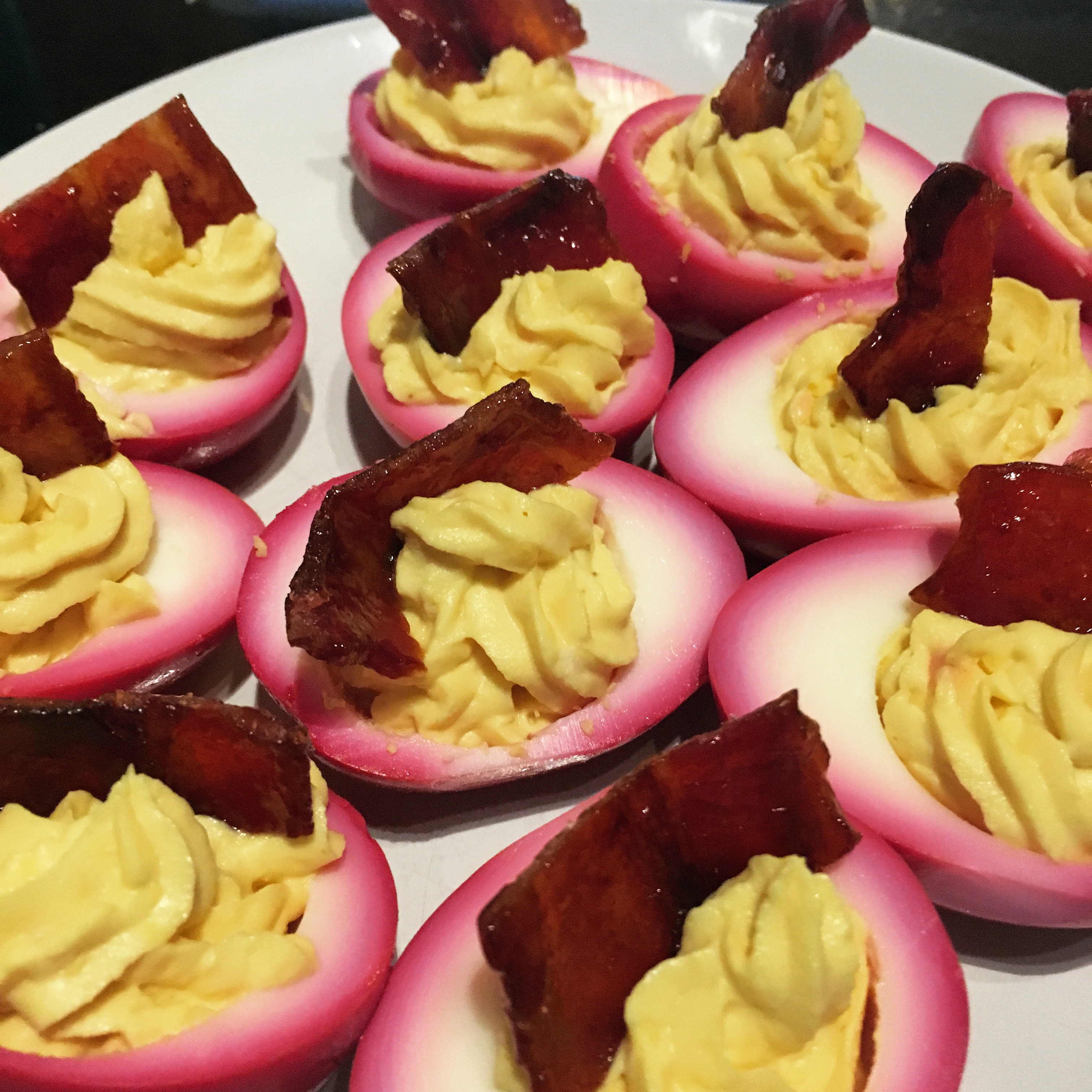 Pickled Deviled Eggs with Candied Bacon
Ingredients
6 hard-boiled eggs
1 15-oz can sliced beets with liquid
½ cup white vinegar
½ cup granulated sugar
½ cup water
½ cup mayonnaise
1 tsp yellow mustard
¾ teaspoon white vinegar
pinch of Lawry's seasoned salt, or to taste
freshly ground black pepper, to taste
candied bacon as garnish, optional (see notes)
Directions
Hard boil your eggs according to your preference or favorite recipe. (My method in notes.) Peel and place in a large jar.
To make the pickling liquid, combine beets, vinegar, water and sugar in a sauce pan. Bring to a boil, stirring until sugar is fully dissolved. Pour over the eggs. (I left out the majority of the beets because I didn't have a lot of room in my container.)
Make sure the jar/container is covered or sealed and then place in the fridge overnight.
Slice pickled eggs in half lengthwise. Remove yolks and put into a small bowl. Place egg whites cut side up on a serving platter or tray.
In bowl with yolks, add mayonnaise, mustard and vinegar. Mix until well-combined and not lumpy. Add seasoned salt and pepper to taste.
Using a spoon or a piping bag and tip, fill the egg whites with the deviled egg mixture until finished.
If using candied bacon, garnish with about half-inch slices on top.
Adapted from:
Pinch My Salt
's deviled eggs and
Sweet Little Bluebird
's pickled eggs
I made the hard-boiled eggs by placing them in a saucepan and filling with cold water until the eggs were covered by about an inch. Bring water to a boil and then immediately remove from heat. Cover and let sit for 12 minutes. Remove from the water and use a cold water rinse or ice water bath until eggs are cool.
If you choose to garnish with candied bacon, you really only need 1-2 slices per dozen deviled eggs. This link has a good explanation along with step-by-step photos. I recommend about 2-3 tablespoons of brown sugar for 1-2 slices. Use your best judgment.