When given the choice to remain in an eternity of solitary monotony or to move into the dangerous unknown to marry a "savage" stranger, what would you do? Having been committed to an asylum for her promiscuity, May Dodd is seemingly stuck without recourse. When President Grant agrees to provide a Cheyenne chief with 1000 white brides in a peace deal, May doesn't hesitate to join the ranks.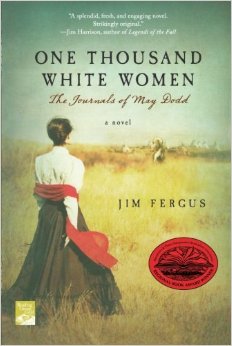 In his novel based on a proposed scenario in history, Jim Fergus explores what would've happened if President Grant had made a different choice. One Thousand White Women follows May Dodd and her fellow brides - nearly all of them some kind of outcast in society - as they head west on a long journey by train, each of them promised to a member of the Cheyenne tribe.  
Told primarily through the journals May Dodd kept, the experience is unlike what anyone expected - Cheyennes and brides alike. All of the women are thoroughly changed in the end. May, a rich society girl turned working class mother turned asylum inmate, marries the chief of her tribe. She is looked to as much for her bravery as for her knowledge on how to please a man. Like her husband Little Wolf, she becomes a leader among the other women.
While still trying to find her footing in the beginning, her husband takes her on a so-called honeymoon to a remote part of the prairie. Unable to communicate effectively, May does her best to get her points across and makes herself useful by cooking meals for herself and Little Wolf, using his kill of the day. For one such meal, May finds some wild onions and herbs and uses them to stuff some grouse the Chief has caught.
In an attempt to recreate that meal, I got some Cornish hens (a modern-day city substitute) and, using other more ingredient-heavy recipes like this one as a guide, put together something a bit simpler that I hoped better aligned with what May might have made. I served them with simply roasted carrots (salt, pepper and oil) and corn.     
I was only able to find frozen Cornish hens at my grocery stores, so if that's the case for you as well, make sure they're thoroughly thawed. Then, I trimmed off some excess skin, removed anything left in the cavity, rinsed them off and patted them dry. Next I stuffed each hen with half of an onion, chopped into 3 large chunks, and 2 garlic cloves.
I rubbed the outside of them with some olive oil (you could also use melted butter) and covered then generously in fresh chopped sage and tarragon. I placed them on a foil-covered baking sheet and placed them in a 375-degree preheated oven for an hour.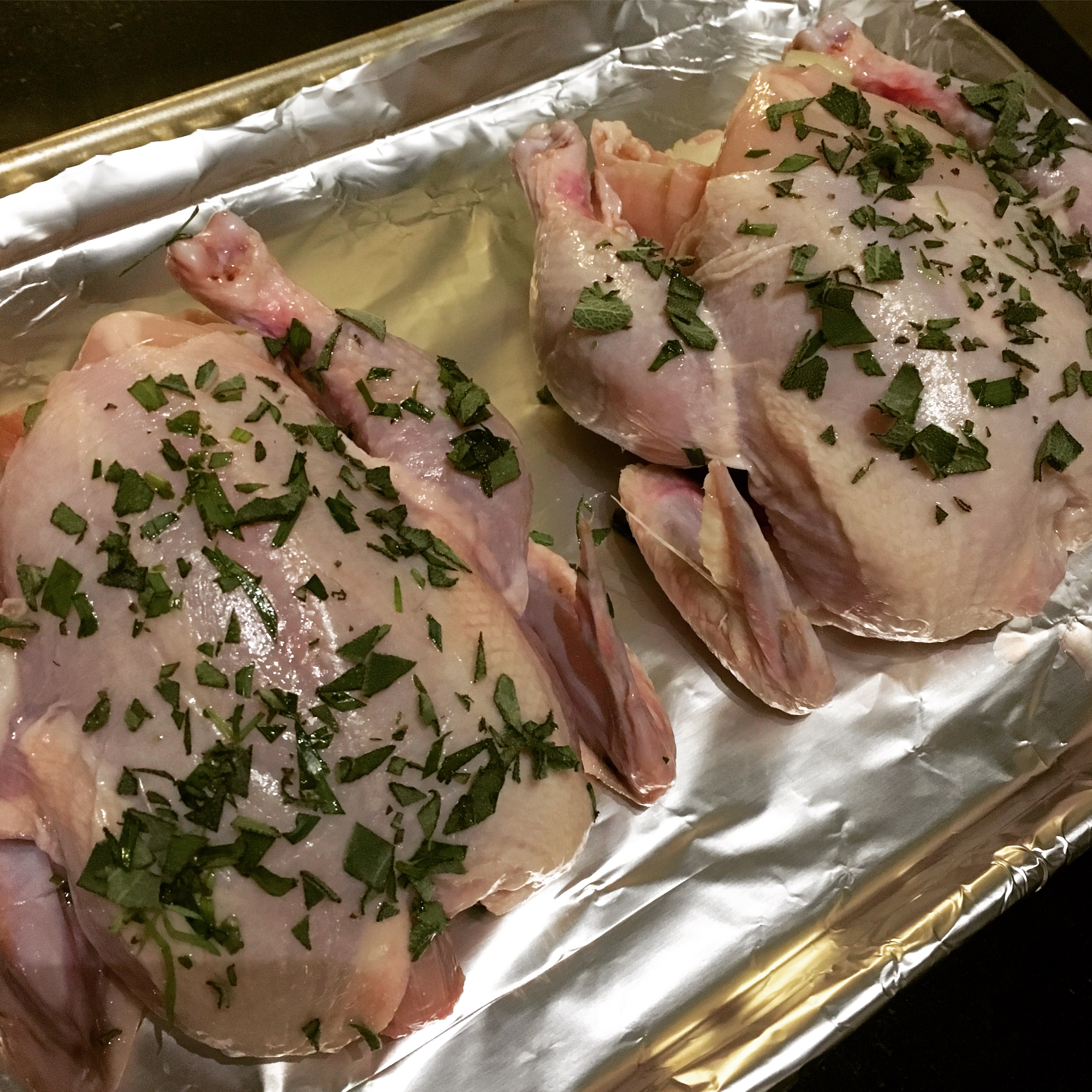 Once I checked the temperature to ensure they were cooked through, I removed them from the oven, loosely covered with foil and allowed them to rest for 10 minutes. They tasted just as good as they smelled!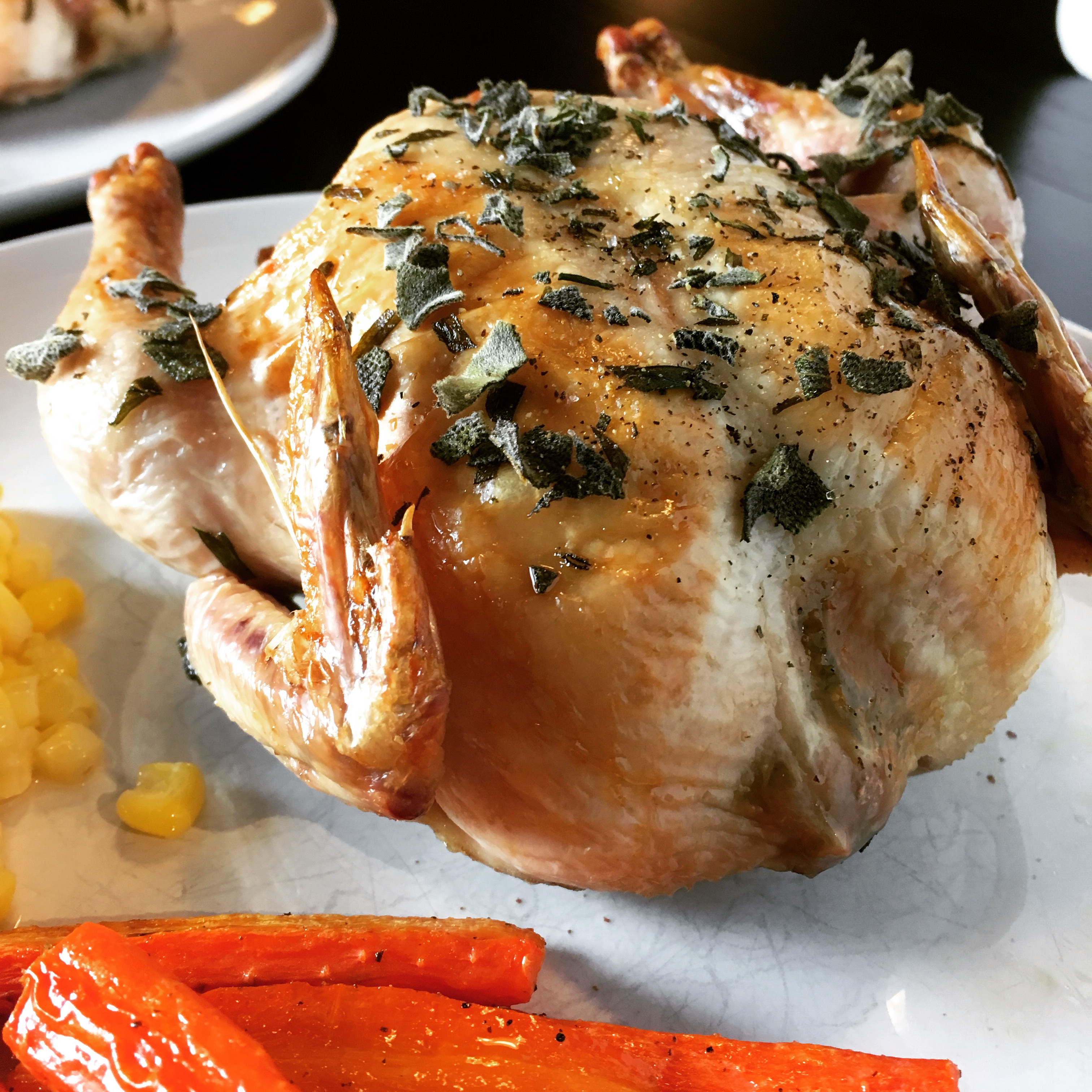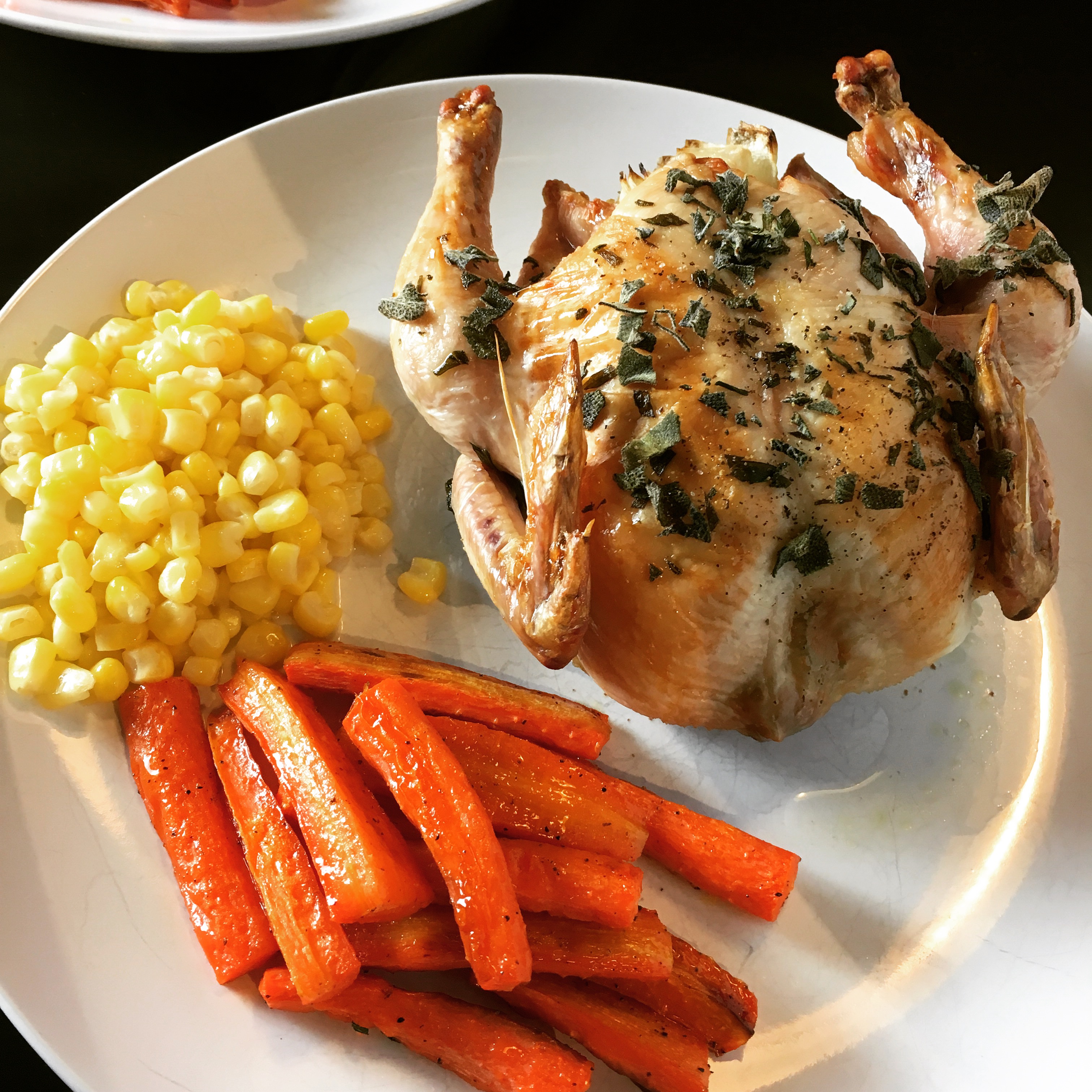 Cornish Hens
Ingredients
2 Cornish hens
1 sprig of tarragon, leaves roughly chopped
2 sprigs of sage, leaves roughly chopped
1 medium onion, halved and cut into 3 smaller pieces
4 garlic cloves, peeled and smashed
olive oil or melted butter
Directions
Preheat oven to 350 degrees F.
Ensure your hens are fully thawed. Remove any access skin, particularly around the opening, and anything that may be in the open cavity. Rinse them with cold water and thoroughly pat dry.
Stuff each hen with a half of the onion and 2 garlic cloves.
Rub each hen with olive oil and cover with the fresh herbs, making sure to cover both sides of each hen.
Place seasoned and stuffed hens on a foil lined baking sheet with edges, breast side up.
Bake for 1 hour, or until a meat thermometer shows the hens are cooked to 165 degrees F in the thickest part of the thigh or breast.
Cover loosely with foil and allow to rest for 10 minutes. Serve with vegetables.