Expecting to die from cancer, Lang does her best to make sure her husband survives without her. She leaves notes for important moments and even prepares dessert for his next birthday. When he unexpectedly dies before she does, her life is turned upside down. In Ferris Robinson's novel Making Arrangements, Lang has to learn how to cope when life doesn't go exactly as she planned.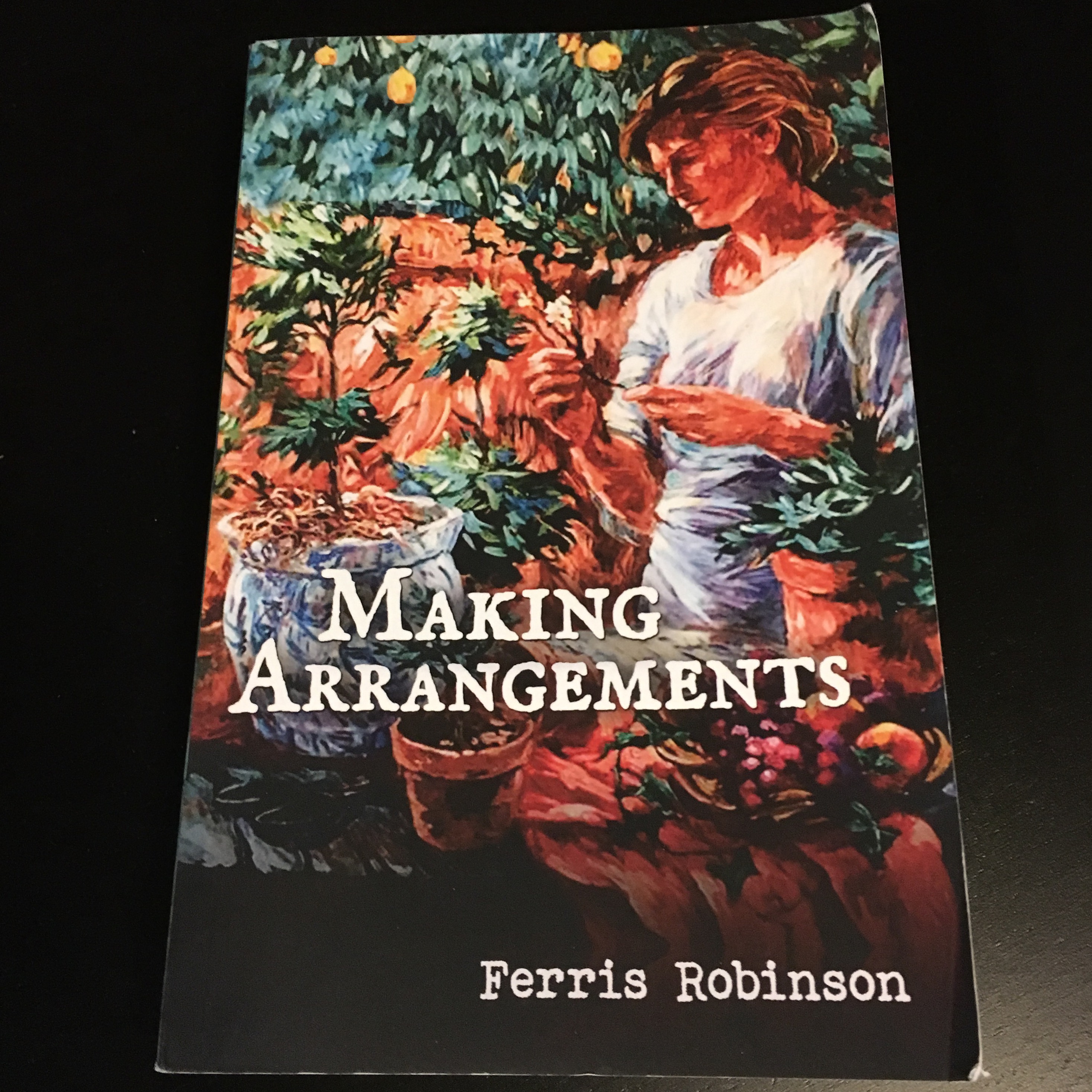 While the story itself is an important reminder to expect the unexpected, I found most of the characters to be quite unlikeable. Even Lang herself was weak and self-defeating for most of the novel, probably due to her son Teddy's and late husband's attempts to keep her in the dark and stifle any ounce of gumption she may have once had. It was refreshing when she gave in to her impulses, finally forging new relationships and learning to be self-sufficient.
Baking comes effortlessly to Lang. Skilled at making cakes, it's important to her to provide her husband with a birthday cake even after she's gone. She lovingly makes and then freezes his favorite, a caramel cake, so it will be waiting for him.
The theme of this book makes it an appropriate read for the end of the year; likewise, this caramel cake seemed to be a perfect treat to bring along to a holiday party or New Year's celebration. Ferris Robinson provided me with a copy of her recipe for Decadent Deep South Caramel Cake (along with a copy of the book), so I set to work making what I hoped would turn out to be a decent imitation of Lang's own masterpiece.
I preheated the oven first, greased and floured the cake pans, and assembled all of my cake ingredients. (I also got out the 2 sticks of butter for the icing so that it would be easier to use when I was ready later.) In a large bowl, I combined the plain white cake mix, whole milk, 3 eggs, vanilla extract and another stick of butter, melted. Once blended, I used an electric mixer on medium for 2 minutes.
I split the cake batter evenly between my two cake pans and set them in the 350-degree oven for 27 minutes.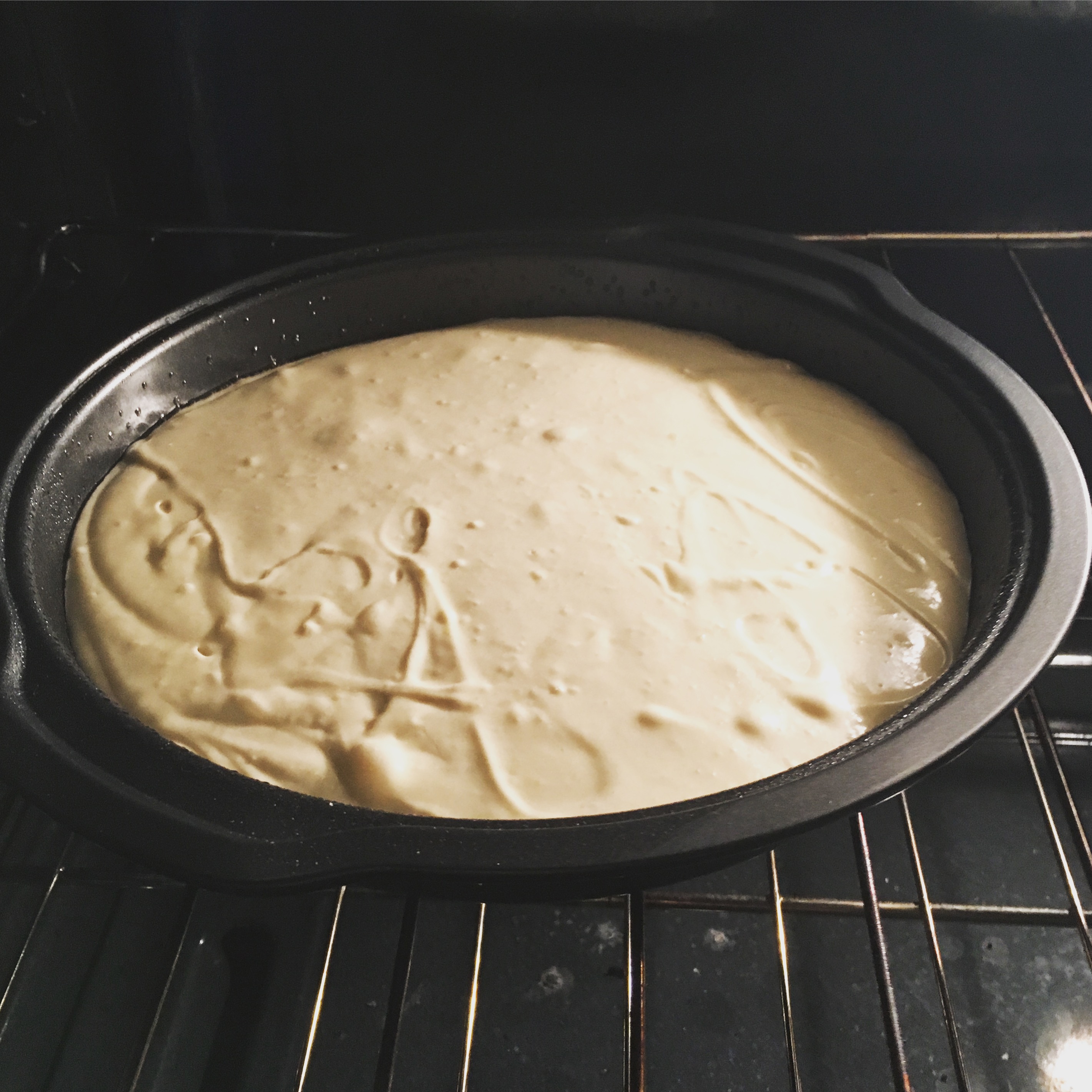 After they were finished, I put them on a cooling rack in the pans for 10 minutes and then inverted onto the racks so that they could continue to cool.
While they fully cooled, I worked on the caramel icing. In a non-stick saucepan, I melted 2 sticks of butter and stirred in 1 pound of brown sugar and ¼ teaspoon of salt, until the sugar dissolved. I added in the evaporated milk and stirred until it was fully incorporated. This mixture came up to a boil and I left it boil softly for about 4 minutes. (At one point, my boil got a little out of control, but I just turned down the heat and kept stirring until it became a little less vigorous. Just go with it - caramel can sometimes be a little intimidating but it doesn't have to be difficult.)
I took the saucepan with the caramel mixture off the heat to allow it to cool. I used this time to sift my powdered sugar and even out the tops of the cooled cakes. I also began boiling some water in a smaller saucepan to use for my double-boiler. After cooling for about 7 minutes, I added the caramel mixture to my bowl of powdered sugar and vanilla, using the electric mixer to thoroughly combine the icing.
My bottom layer of cake on a plate, I spread a thick layer of caramel icing along the top. Once it was well-coated, I placed the second cake on top of it and poured the icing on it, allowing it to spill off the edges and coat the sides. I'm not great at cake-decorating or evenly icing cakes, so given the consistency of the frosting I thought this would be the best way. If you use this method, be careful that the icing doesn't spill over the sides of the plate (or that you have something in place to catch the overflow). It did provide even coverage, but it made a bit of a mess. Sadly, my presentation wasn't as great as it could've been, but I was hoping the taste would make up for it.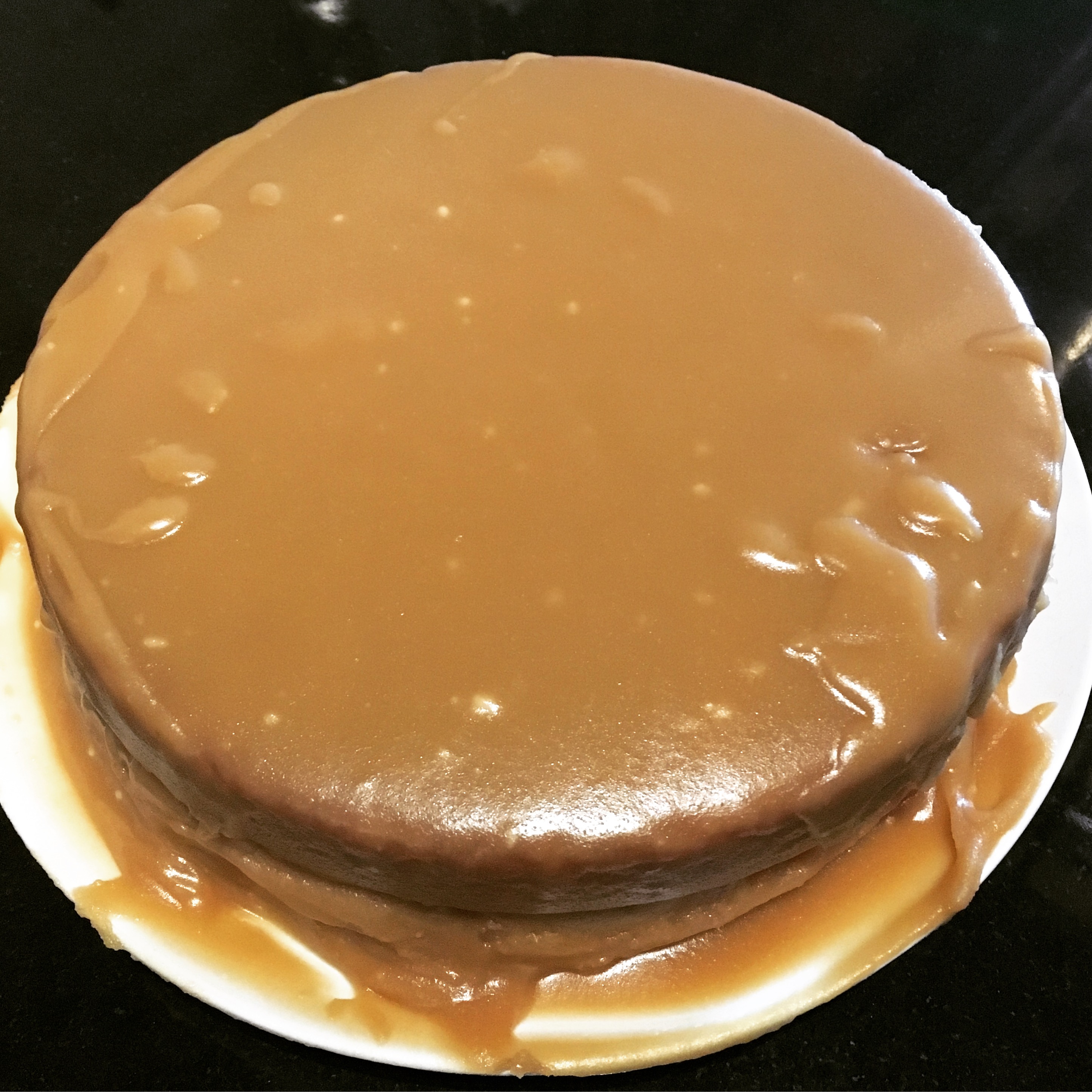 The good news is, it absolutely did. The cake was delicious, very moist and airy. The caramel icing had great flavor and once set, it provided a nice thick and slightly hard coating on the cake. A decadent cake for sure, one that is worth making for any special occasion.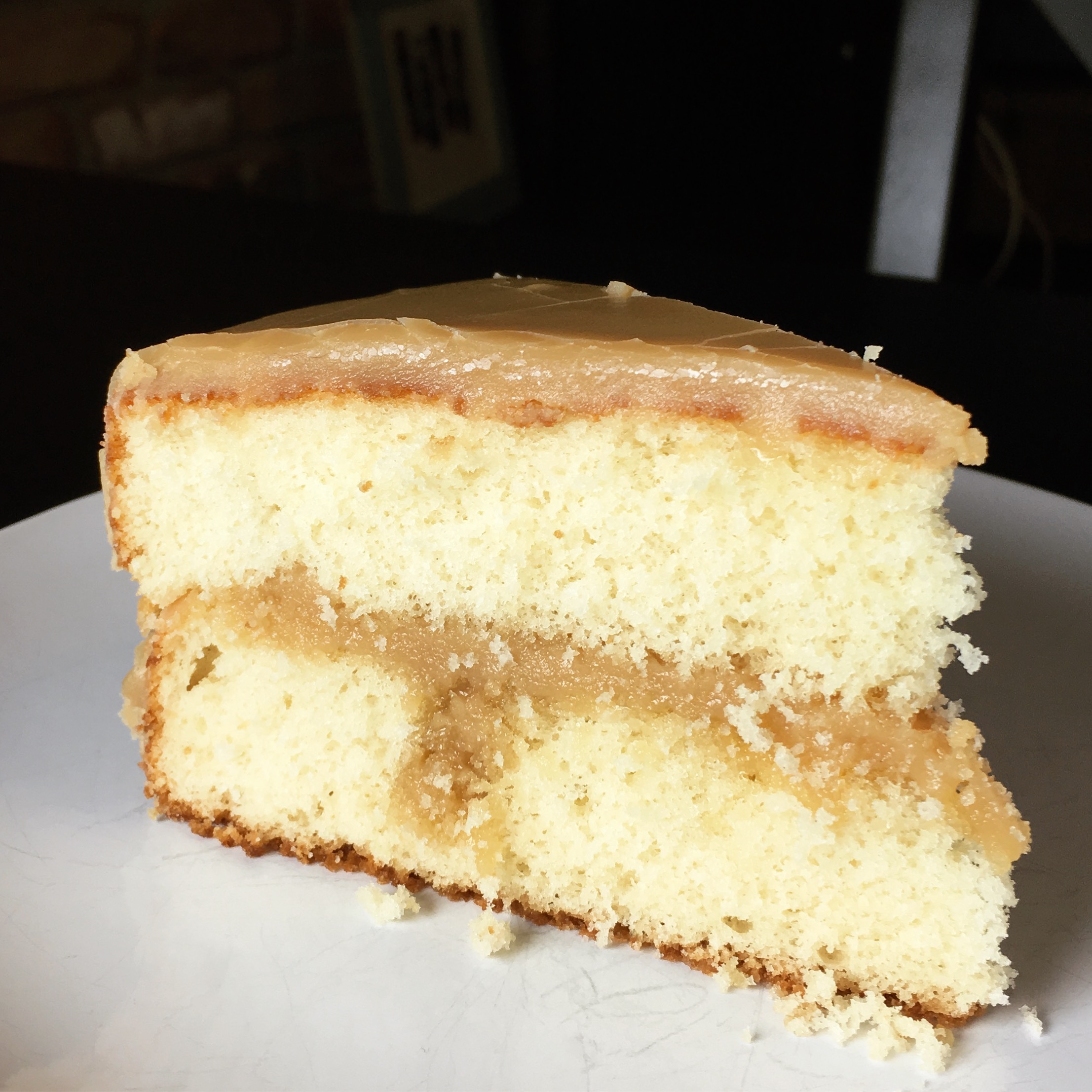 Decadent Deep South Caramel Cake
Ingredients
Cake
1 package (18.25 ounces) plain white cake mix [Note: A 16.25 ounce package was the largest I was able to find in the store; I used it and had no problems.]
1 cup whole milk
8 tablespoons butter, melted
3 eggs
2 teaspoons pure vanilla extract (not imitation)

Lang's Famous Decadent Caramel Icing

2 sticks butter
1 (16 oz.) box of light brown sugar
¼ teaspoon salt
⅔ cup evaporated milk (canned)
2 cups sifted confectioner's sugar
2 teaspoons pure vanilla extract
Directions
Preheat the oven to 350 degrees F.
Grease two 9-inch round cake pans, then dust with flour.
Blend cake mix, milk, melted butter, eggs, and vanilla extract in a large mixing bowl with an electric mixer. When blended, beat on medium speed for about two minutes.
Pour batter into greased cake pans and bake until they are golden brown and spring back when lightly to touch, about 27 to 29 minutes. Let cool 10 minutes before inverting onto plate. Make sure they are completely cool before icing.
While the cakes cool, prepare the Decadent Caramel Icing. Heat butter, brown sugar and salt in a saucepan, stirring until the brown sugar dissolves. Add milk and stir until blended. Bring to slow boil for about four minutes, stirring constantly. Let hot mixture cool for several minutes.
Add confectioner's sugar and vanilla and mix with electric mixer until lighter in color and caramelized. Ice that cake! Work quickly, while the frosting is still warm because it will set up. If the frosting gets too hard to work with, place it over low heat for a minute, stirring constantly. [I mixed in the sugar and vanilla in a homemade double-boiler (glass bowl over gently boiling saucepan) and this helped to prevent it setting up.]
Cake can be stored covered in plastic wrap or aluminum foil at room temperature for up to 1 week, or it can be frozen, wrapped in saran and foil, for up to 6 months. Thaw the cake overnight before serving.
The icing recipe made significantly more icing than I needed. If you wanted to make an additional cake layer, so that it has 3 instead of 2, you would still likely have enough without altering the above icing recipe.
I hope everyone has a safe New Year's celebration! Looking forward to seeing you all again in 2017!
* This book was given to me by the author in exchange for an honest review.