Jende and Neni Jonga have come to New York City (Harlem) from Cameroon to achieve the American Dream. After struggling to make ends meet for a few years in the States, Jende secures a meeting with Clark Edwards, a high-level executive at Lehman Brothers. In 2007, this seems like another step closer to Jende's dream.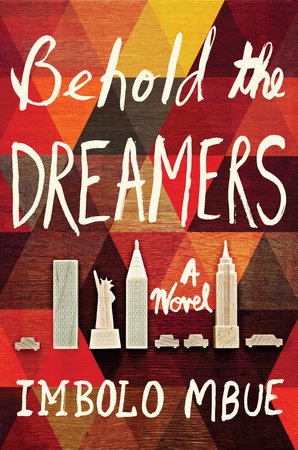 In Behold the Dreamers, Imbolo Mbue examines the American Dream from both sides - the Jengas' desperate pursuit of it serves as a stark contrast to the Edwards' comfortable lifestyle and achievements. Jende is overjoyed at the opportunity to chauffeur the entire Edwards family around the city so that Neni can complete pharmacy school and take care of their son.
In the driver's seat, Jende is privy to many of Clark's important conversations in the car but never lets the sensitive information slip. Even when tensions arise between the Jongas and the Edwards, Jende remains ever-loyal, not wanting to upset the careful balance that is keeping him in America. Mbue's novel is a reminder that even those comfortably at the top should never get too comfortable, and sometimes it's important to take a step back to determine what will truly make you happy.
Even though Jende and Neni are all too happy to be in the U.S., their kitchen table is filled with foods that remind them of home. One of the first meals we see Jende eat in the novel is African pepper chicken. I found a recipe online for Chicken Suya, commonly found in Cameroon, served with an African Pepper Sauce. Neni also serves fried ripe plantains throughout the novel, so I added those to the menu. Together, I thought it would make the perfect meal to accompany their story.
I started with the sauce and tried to remain unintimidated by the number of hot peppers it required. After cleaning and chopping them, I also roughly chopped the onions and tomatoes. Everything went into the food processor.
It came together pretty easily (as most blended sauces do), and while it simmered on the stovetop, I began prepping the chicken. I trimmed and cut the chicken thighs, dividing the pieces onto the skewers.
For the rub, I combined all of the spices, peanut butter and bouillon, working it into a paste of sorts. It ended up being extremely thick - to the point that it was nearly impossible to "brush" on the chicken as directed. I thinned it out a bit with water and ended up forcefully painting it onto the chicken with a rubber scraper.
It's up to you, but it might be worthwhile to thin it out a bit more (either with oil or water) so that you can cover your chicken more thoroughly - mine ended up rather blotchy.
While the chicken baked, I let my oil get up to temperature for the plantains. The sauce was done by this time, so I removed it from the heat, allowing it to cool off a bit before we ate.
For the fried ripe plantains, I tried to find as a ripe a plantain as I could at the store. Thinking it would be similar to peeling a banana, I ended up having a difficult time. I would've benefitted from a handy guide, like this one. (Hopefully your peeling experience will be much easier than mine!) Once the pesky peel was off, I sliced it on the diagonal into large oblong coins.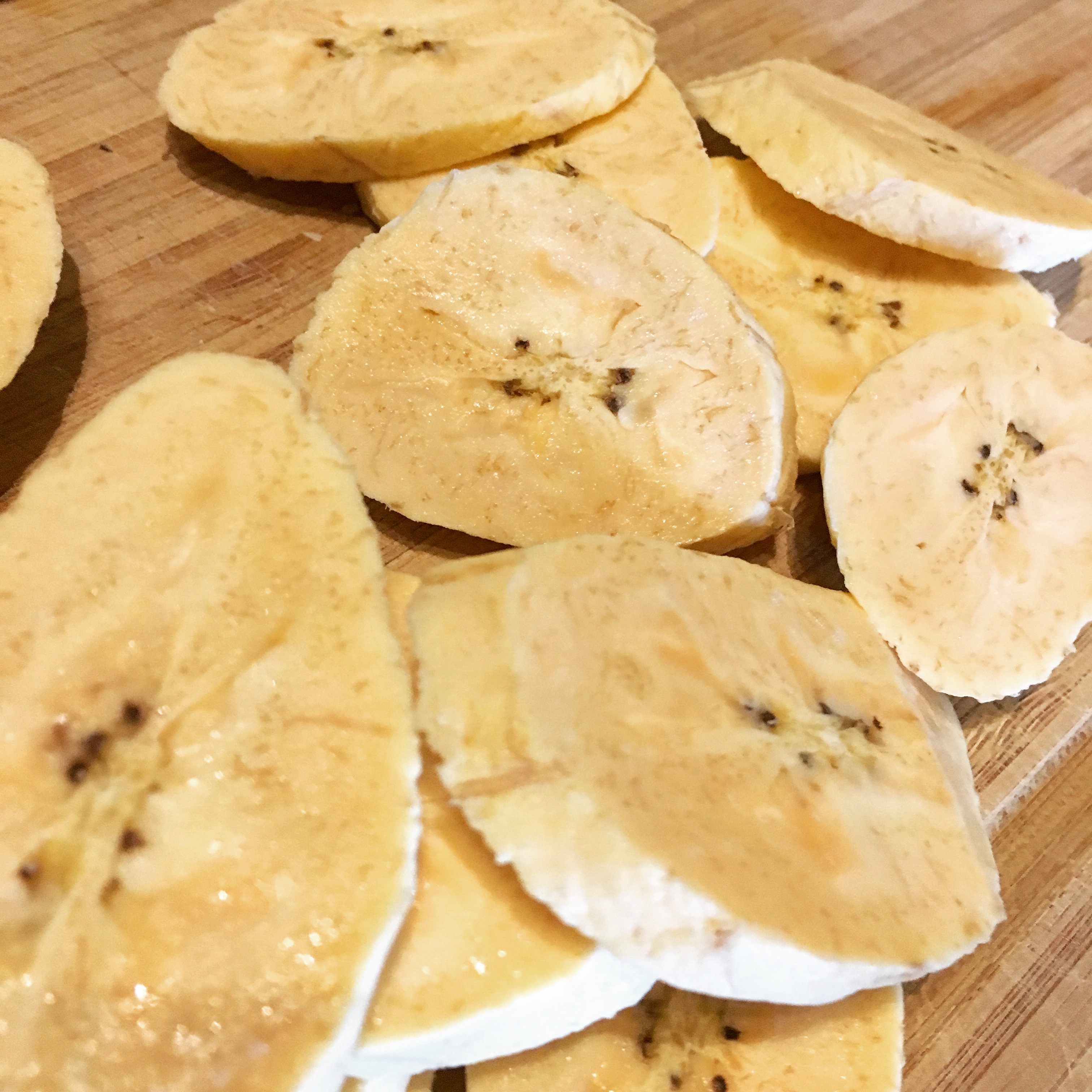 Frying them proved to be much easier than peeling them, thanks in part to my adventures in frying the johnnycakes the week before.
After a few minutes, they were a nice golden brown. I scooped them out onto a paper towel and sprinkled with salt. They proved to be not only a nice complement to the seasoning of the chicken and the spiciness of the sauce but a break from the heat as well!
I was happy to be able to make a dish that paired so well with such an enjoyable book, but truth be told, this wasn't something I would make again. Not one for super spicy foods anyway, I could only use about a tablespoon of the pepper sauce over two skewers of chicken. My boyfriend (who loves spicy food) thought the sauce went well alongside the chicken but probably not something he'd eat without it. And, heads up, the recipe makes a decent amount of sauce - at least 4 cups.      
Chicken Suya with African Pepper Sauce

From: African Bites [Annotations from me]

Ingredients
Suya Chicken

3 pounds skinless chicken thigh
4 tablespoons peanut butter or groundnut paste
½ - 1 tablespoon cayenne (depending on heat preference)
1 tablespoon smoked paprika
1 tablespoon garlic powder
1 tablespoon onion powder
1 tablespoon white pepper
1 tablespoon Bouillon
1 teaspoon salt
2 - 3 tablespoons vegetable oil
6 - 8 wooden skewers

African Pepper Sauce

10 peppers (habenero or scotch bonnet)
1 medium onion
4 garlic cloves
2 tablespoon bouillon powder [I used chicken]
2 basil leaves [I used 1 teaspoon dried basil]
2 tablespoon parsley [I used 2 teaspoons dried parsley]
1 - 3 roma tomatoes (adjust for spiciness)
½ - 1 cup vegetable oil
salt
Directions
Coarsely chop the tomatoes, onions, and discard stems of the peppers. Put the tomatoes, onions, peppers, garlic, parsley, basil, bouillon in the food processor along with as much oil as desired. [I used ½ cup, which seemed to be enough for my sauce.]
Pour the pepper mixture into a small sauce pan bring to a boil and slowly simmer for about 15 minutes, stirring frequently to prevent burns. Add salt and adjust as needed.
While the sauce is simmering, preheat the oven to 450 degrees F. Soak the skewers for at least 20 minutes totally submerged in water before using it to prevent burns.
In a medium bowl, mix garlic powder, onion powder, smoked paprika, white pepper, cayenne pepper, peanut butter and bouillon. [Mine formed a pretty thick paste, making it difficult to brush/spread on the chicken. I would suggest adding some water or oil as needed to thin it out a bit.]
Pat the chicken thighs dry with a paper towel. You want to have a completely dry chicken before cooking. Trim and slice the chicken into thin slices or bite size cuts (suggest cutting on a diagonal).
Lightly spray or oil baking sheet or roasting pan to prevent the suya from sticking to the pan. [I covered mine with foil to make cleanup easier.]
Thread the chicken onto the skewers (about 4 per skewer), making sure the skewer is fully covered with slices of chicken.
Brush the chicken skewer with spice mixture on both sides. Place skewers on the sprayed/oiled roasting pan or baking sheet.
Drizzle with oil and bake for about 20-25 minutes, flipping halfway through baking until chicken is fully cooked through. Towards the last 3 minutes of baking, switch to broil to get a nice crisp brown on the outside.
When the pepper sauce is finished, let it cool. Pour in a mason jar or a container with a lid and store in a fridge for about a week. In order for your pepper sauce to last longer, make sure it is fully covered in oil.
Serve chicken suya warm with a side of African pepper sauce [and fried plantains, if desired].