Amy Tan's The Joy Luck Club is about four Chinese-American mothers who immigrated from China to San Francisco and their daughters. Like a mahjong game, the novel's sixteen chapters are organized into four parts, each with four sections. Two sections focus on the Joy Luck mothers and two sections focus on their daughters, with one chapter devoted to their childhoods and one chapter devoted to their lives as adult women.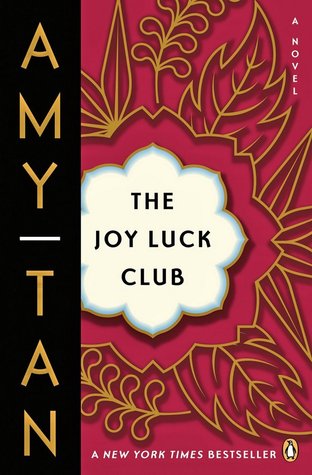 The story Tan tells is at once distinctive and familiar. While I couldn't directly relate to what they faced as immigrants in a foreign country or more specifically as Chinese-Americans, I easily related to the growing pains they experienced through childhood, their struggles within relationships as they matured, and the ongoing, ever-changing connection between mothers and daughters.
Every week the women of the Joy Luck Club meet to play mahjong (one woman for each corner of the game table), raise money and feast. The hostess always served special foods to bring good fortune - "dumplings shaped like silver money ingots, long rice noodles for long life, boiled peanuts for conceiving sons, and of course, many good-luck oranges for a plentiful, sweet life." The women would play all through the night and into the morning, until the sixteen rounds of mahjong were finished, and they would feast again.
I was quite excited to be able to make dumplings to go along with this novel. I found a recipe that sounded promising (The Only Dumpling Recipe You'll Ever Need) and got a great Asian market recommendation from my coworker. I paid a visit to 168 Asian Mart one evening and picked up all the ingredients for the dumplings + some cute little sauce dishes I couldn't resist + some mochi for dessert.
I assembled all of my ingredients and got to work.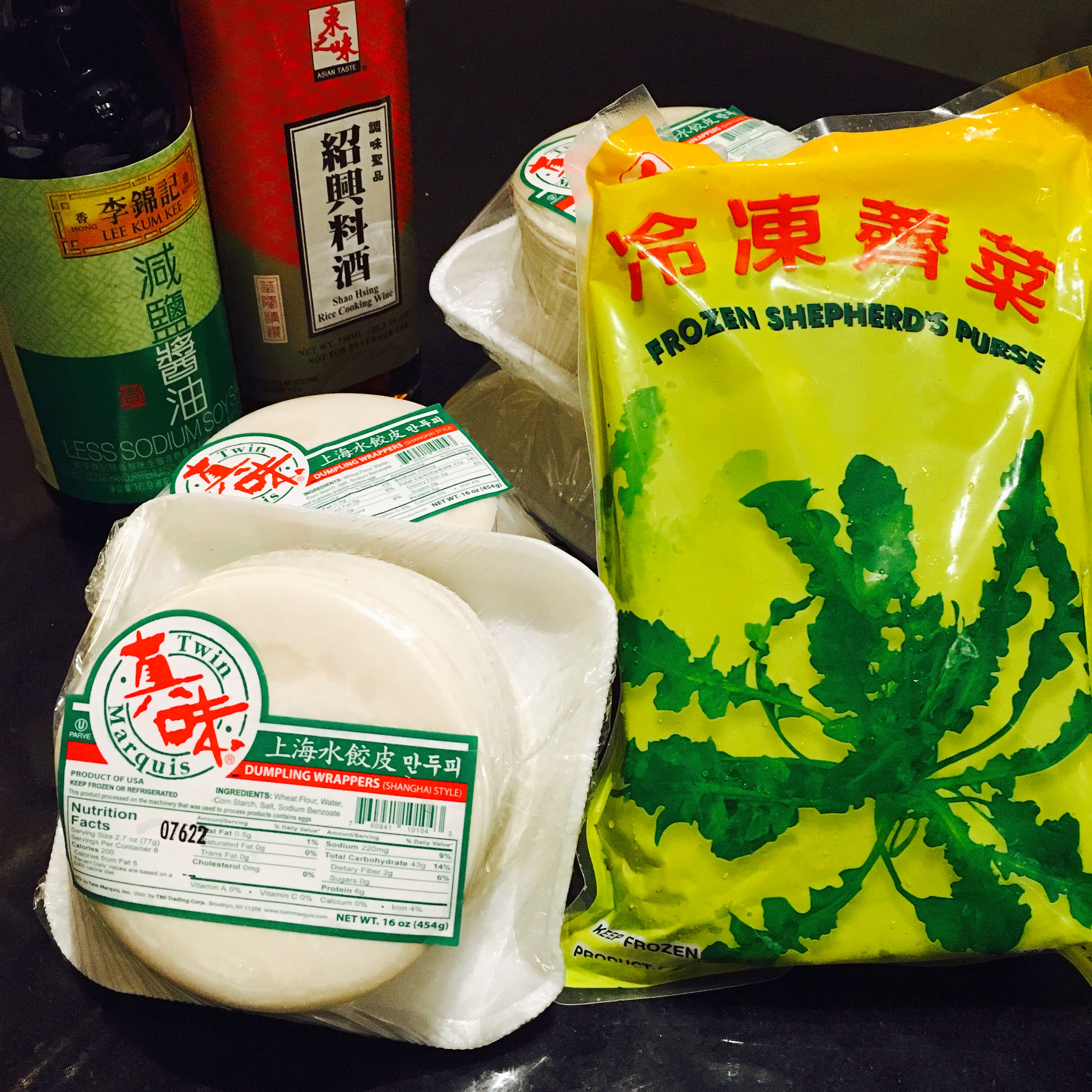 I wrung out each of the three thawed packages of Shepherd's purse and chopped them as finely as I could. Then, I spent 7-ish minutes combining the greens with the pork and vinegar, wine, soy sauce and spices. Look at all that green:
I used water to wet the edges of my first dumpling skin, I plopped a generous dollop of filling onto it, and I realized I didn't remember how to fan fold them. (Side note: I once worked as a "dumpling girl" at a restaurant folding several different kinds, each with their own unique fold. Over two extremely long weekends, I mastered all of the folds and made thousands of dumplings.) I watched some YouTube videos to jog my memory before deciding to stick with the simplest fold.
I boiled two of them to try out the filling. They passed the test, so I enlisted the help of my boyfriend and together we made about 90 before needing a break. A break meant it was time to eat! We pan-fried and then steamed them before enjoying the fruits of our labor.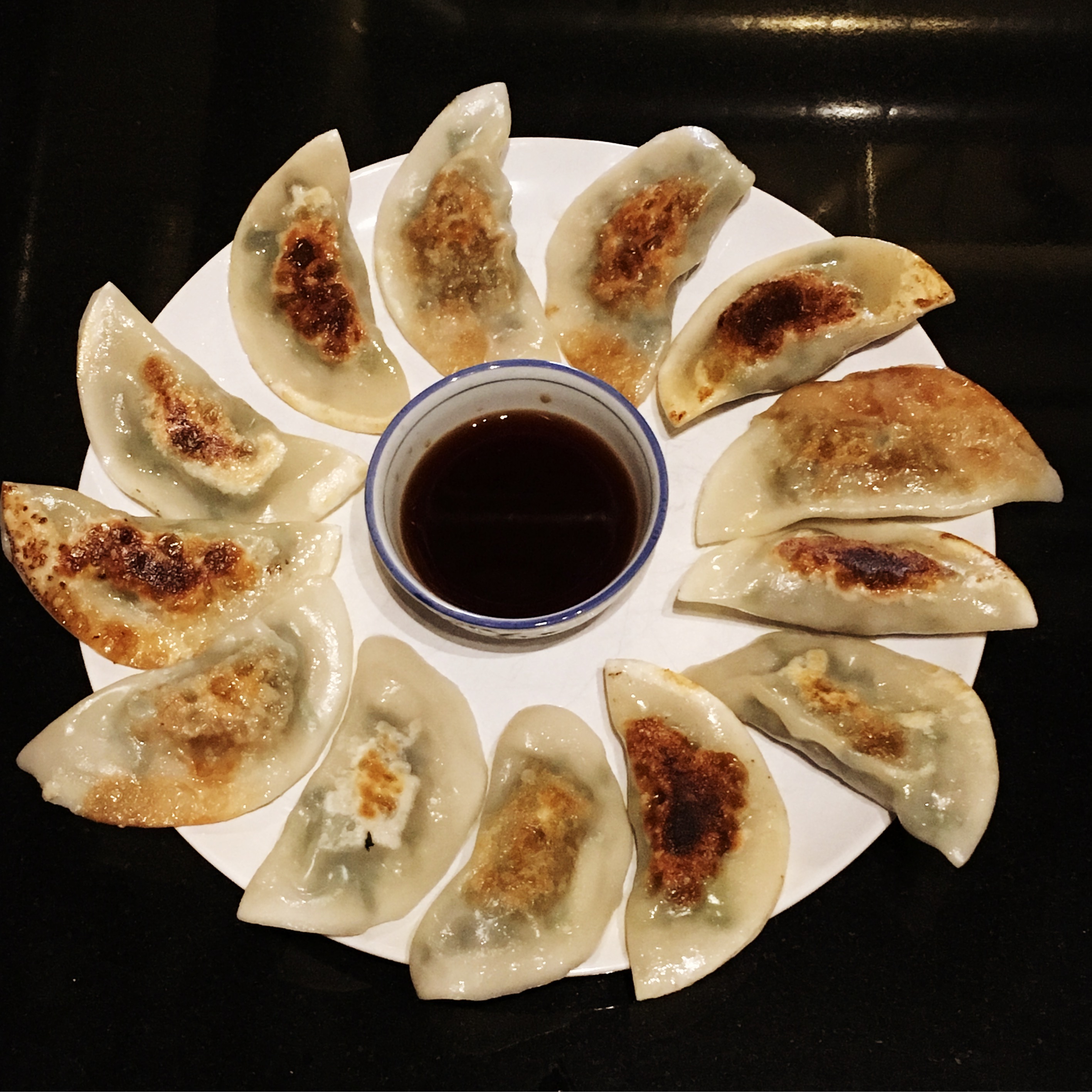 They were very vegetable-y but still quite good. If I made them again, I'd probably reduce the amount of greens or increase the amount of pork until I got the ratio I prefer. Since we'll be eating these ones for quite a while, I'm not sure when that will be!
Pork Dumplings
Servings: Yields approximately 150 dumplings
Ingredients
3 lbs green leafy vegetable (like shepherd's purse, baby bok choy, napa cabbage, or Chinese chives)
1½ pounds ground pork (or ground chicken or beef, as long as they aren't too lean)
⅔ cup shaoxing wine
½ cup oil
3 tablespoons sesame oil
1 tablespoon salt
3 tablespoons soy sauce
¼ teaspoon white pepper
⅔ cup water, plus more for assembly
3-4 packages dumpling wrappers
Directions
Wash your vegetables thoroughly and blanch them in a pot of boiling water. Transfer them to an ice bath to cool. [If using frozen shepherd's purse, make sure it is fully thawed before continuing.] Ring out all the water from the vegetables and chop very finely.
In a large bowl, stir together the vegetable, meat, wine, oil, sesame oil, salt, soy sauce, white pepper, and ⅔ cup water. Mix for 6-8 minutes, until very well-combined.
To wrap the dumplings, dampen the edges of each circle with some water. Put a little less than a tablespoon of filling in the middle. Fold the circle in half and pinch the wrapper together at the top. Then make two folds on each side, until the dumpling looks like a fan. Make sure it's completely sealed. Repeat until all the filling is gone, placing the dumplings on a baking sheet lined with parchment. Make sure the dumplings aren't sticking together.
If you'd like to freeze them, wrap the baking sheets tightly with plastic wrap and put the pans in the freezer. Allow them to freeze overnight. You can then take the sheets out of the freezer, transfer the dumplings to Ziploc bags, and throw them back in the freezer for use later.
To cook the dumplings, boil them or pan-fry them. To boil, simple bring a large pot of water to a boil, drop the dumplings in, and cook until they float to the top and the skins are cooked through, but still slightly al dente.
To pan-fry, heat 2 tablespoons oil in a non-stick pan over medium high heat. Place the dumplings in the pan and allow to fry for 2 minutes. Pour a thin layer of water into the pan, cover, and reduce heat to medium-low. Allow dumplings to steam until the water has evaporated. Remove the cover, increase heat to medium-high and allow to fry for a few more minutes, until the bottoms of the dumplings are golden brown and crisp.

Serve with soy sauce, Chinese black vinegar, chili sauce, or other dipping sauce of your choice!
Find the dumpling skins fresh at the Asian grocery store. Look for the white, round ones. If they start to dry out, wrap them in a damp paper towel and put them in a sealed plastic bag for a couple hours to soften back up.
Freeze any unused dumpling wrappers in an airtight sealed plastic bag for later.
This post contains affiliate links. Full disclosure here.