Every November, my Good Reads & Good Eats book club reads a spooky book. Since we meet on the first Tuesday of each month, this allows us to read it during October and our meeting usually ends up being right around Halloween. This year's selection was Sarah Pinborough's novel Behind Her Eyes. The thriller was released in January but it made for an excellent read this month, just creepy enough throughout with a twist at the end I didn't see coming.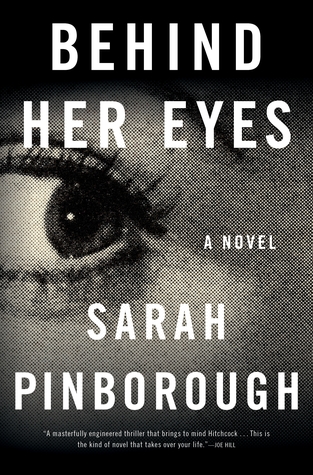 Thanks to the success of Gone Girl, the oft-called domestic thriller has become more and more popular, and generally, I try to avoid them. Gone Girl was so well-written and its twist both genuinely surprising and believable (which is harder to achieve than it may seem) that I'm usually disappointed in those that follow.
That being said, Behind Her Eyes was an intriguing read. I did get caught up in the story and it kept me wondering what exactly was going on and who to be skeptical of, but the devices it used (particularly toward the end) seemed over-the-top and unbelievable. Overall, Sarah Dickinson does a great job summing up how I feel on her blog, but beware of spoilers if you haven't read the book and still want to.
Pinborough's novel begins in the middle of David and Adele's troubled marriage. After a recent move to London, David almost immediately begins an affair with Louise, who turns out to be his new receptionist. It's not clear how Adele discovers his transgression, but she makes it a point to befriend Louise and tension begins to build. As more about Adele's backstory is revealed, more questions arise. In the present day narrative, we're left wondering who we can trust. I'll stop here to avoid spoilers, but I think it achieved what it needed to for our book club in that it was mostly riveting and twisty and will certainly make for interesting discussion. I'm looking forward to hearing what everyone has to say about it.
In an attempt to create some domestic bliss (or at least throw David off her scent), Adele continues to make impressive home-cooked meals almost every evening. On one such evening, she whips up the deceptively easy Spaghetti Carbonara and serves it with a simple arugula salad. I grabbed a recipe from one of my favorite blogs, Damn Delicious, for the pasta and found one for the salad from Everyday Maven. The whole meal took about twenty minutes and only requires a minimum number of ingredients for one so impressive; it makes a perfect weeknight meal.
First, I set a large pot of water to bowl and then prepped the salad. I chopped a half cup of cherry tomatoes in half and tossed them in a large bowl with arugula and the lemon zest. I love Trader Joe's arugula because it's the perfect amount for a dinner salad and it's already pre-washed. In a separate small bowl, I combined the ingredients for the dressing - olive oil, balsamic vinegar, and salt and pepper. With the salad mostly set, I turned to the pasta.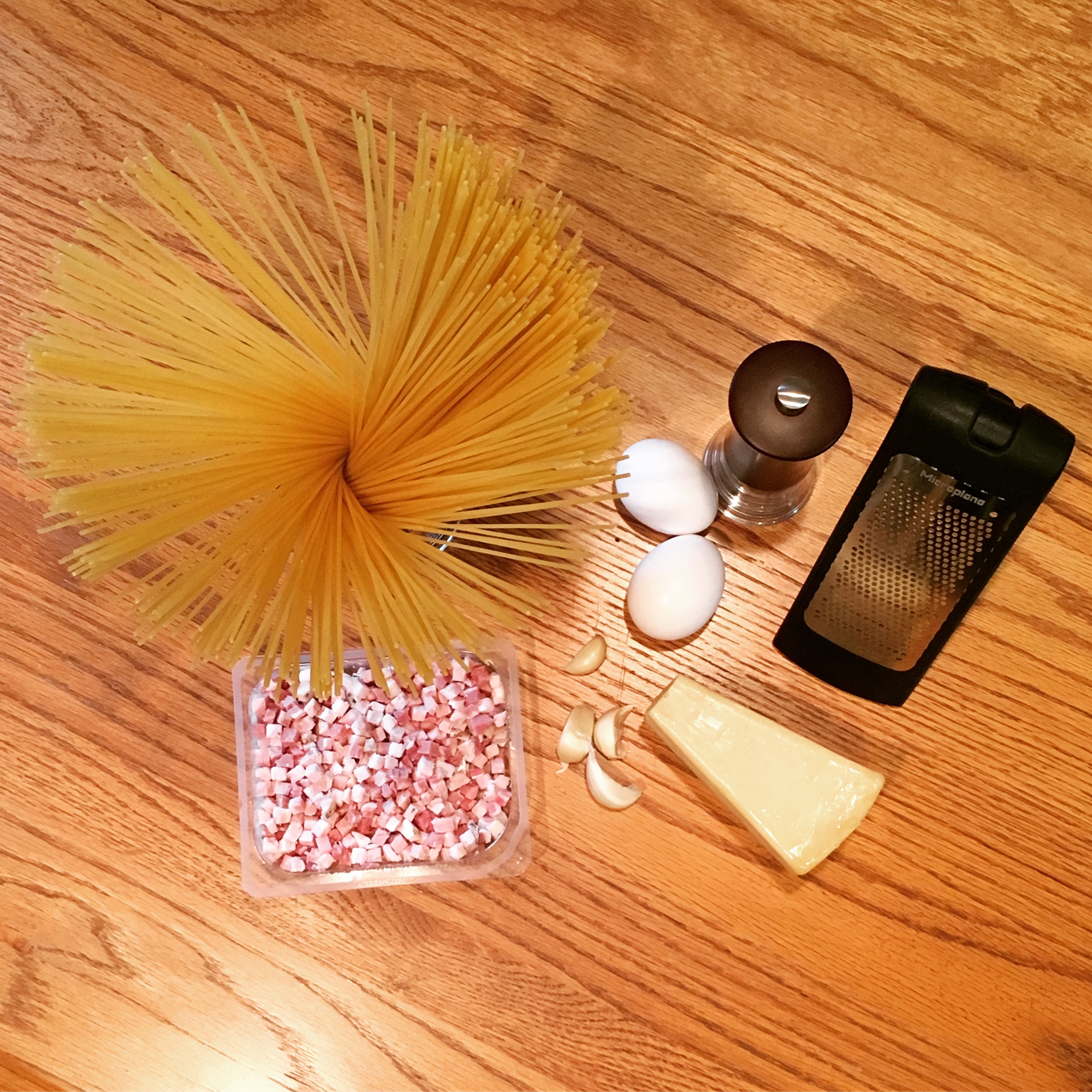 Once the water was boiling, I salted it and added the spaghetti to the pot. In a small bowl, I whisked together the eggs and Parmesan and set it aside. I added my diced pancetta (or bacon, if that's what you're using) to a heated skillet and allowed it to crisp up for several minutes, before adding my minced garlic.
You're going to want to make sure your pasta is cooked and drained before you add the garlic. Here is where you need to begin working quickly. Even though this recipe is easy, the eggs leave some room for error. You don't want them to scramble; they should become a part of the creamy sauce, indistinguishable from the pasta itself. 
To my pancetta and garlic, I added my pasta and the egg-Parmesan mixture, using a pair of tongs to toss and combine everything. I seasoned with salt and pepper, before adding a bit of pasta water, tossing and checking the consistency.
With that all set, I re-whisked my dressing, poured it on the arugula and tossed my salad. Best dishes are both served immediately.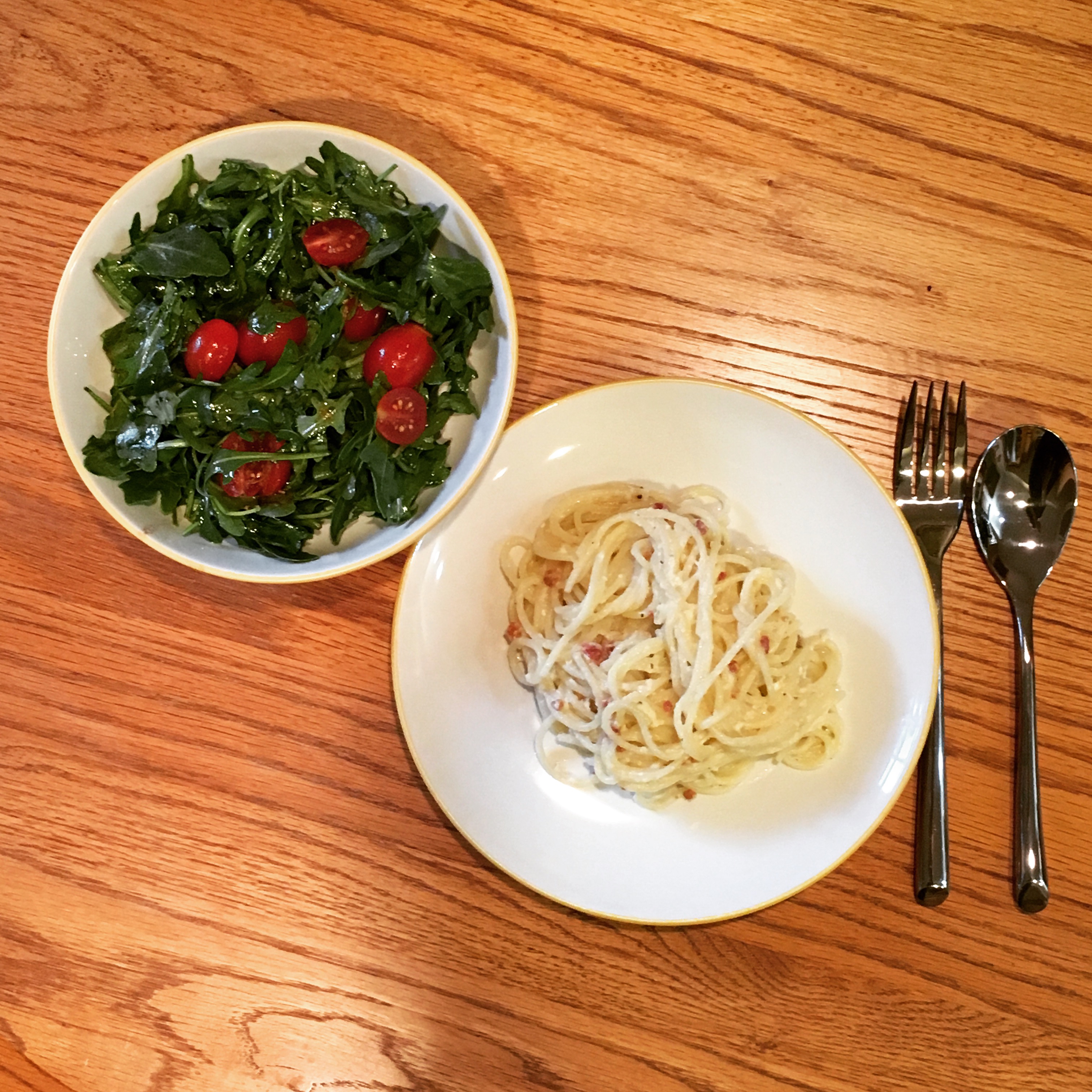 Spaghetti Carbonara
Ingredients
8 ounces spaghetti
2 large eggs
½ cup freshly grated Parmesan
4 slices bacon, diced [or diced pancetta, about 4 ounces]
4 cloves garlic, minced
Kosher salt and freshly ground black pepper, to taste
2 tablespoons chopped fresh parsley leaves (optional)
Directions
In a large pot of boiling salted water, cook pasta according to package instructions; reserve 1/2 cup water and drain well.
In a small bowl, whisk together eggs and Parmesan; set aside.
Heat a large skillet over medium high heat. Add bacon and cook until brown and crispy, about 6-8 minutes; reserve excess fat.
Stir in garlic until fragrant, about 1 minute. Reduce heat to low.
Working quickly, stir in pasta and egg mixture, and gently toss to combine; season with salt and pepper, to taste. Add reserved pasta water, one tablespoon at a time, until desired consistency is reached.
Serve immediately, garnished with parsley, if desired.
From:
Damn Delicious
Arugula Salad with Lemon Balsamic Dressing
Ingredients
½ pound arugula
½ cup grape or cherry tomatoes, washed and halved
zest of a whole medium lemon
¼ cup extra virgin olive oil
2 Tablespoons balsamic vinegar
¼ teaspoon kosher salt
5 to 6 turns freshly ground black pepper
Directions
In a large salad or mixing bowl, combine arugula, halved grape tomatoes and the zest of an entire medium lemon.
In a separate bowl, whisk olive oil, balsamic vinegar, salt and pepper together until well mixed.
When ready to serve, pour dressing over salad, toss until well coated. Serve and Enjoy!