I'm not sure where I first heard of Fiona Davis' latest historical novel, but I was immediately grabbed by the description. The Lions of Fifth Avenue is about a woman, Laura Lyons, who lives in the main branch of the New York Public Library with her family in 1913, and about her granddaughter who works in the same library 80 years later.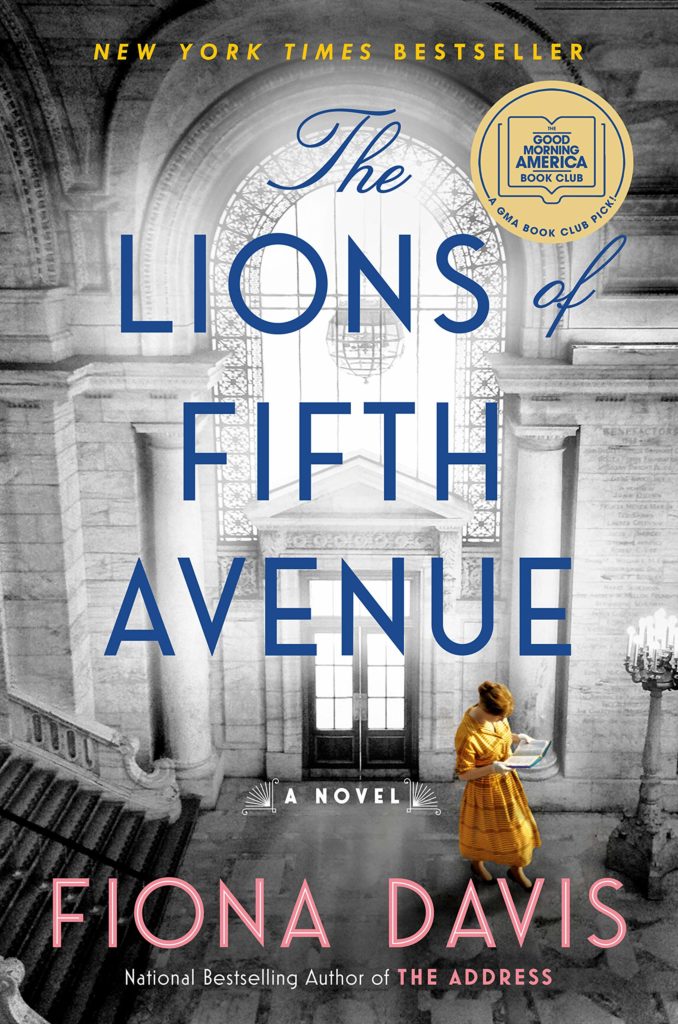 Like most other bookworms, I'm always interested in stories about books, bookstores, and libraries. The idea of living in a library, though? I couldn't wait to get my hands on the story, and I was definitely a bit jealous of the Lyons family throughout. Because her husband is the superintendent of the library, they're able to live in the apartment within the grand building. Though the Lyons family — Laura, her husband and their two children — live a happy life, Laura wants more. She enrolls at Columbia University's journalism school, and her whole life changes.
Decades later, her granddaughter, Sadie, is working at the library as a curator. When pieces of a key exhibit she's overseeing begin disappearing, Sadie has no choice but to dive into the investigation to save not only the exhibit but her career as well. Of course, some family entanglements make everything a bit more complicated, but I don't want to give it all away, as I think the story is worth discovering on your own.
As with most historical fiction, I thought the "historical" part (though I suppose 1993 isn't exactly yesterday, is it?) was the most fascinating. I strongly related to Laura Lyons and the feelings she had about motherhood as well as her struggles with taking care of home and family while trying to pursue a meaningful career. In some ways 1913 didn't seem so far away from today. There was a strong feminist angle in Laura's sections, and if you know anything about me, you know that's totally my jam.
Obviously, living in the library was also super cool, but I honestly wished there was more about it. I was hoping for some really mundane details about everyday life in the library, perhaps a map of the apartment… in that way, it left me wanting, but I loved getting to explore the idea all the same.
Choosing a recipe for this book took some twists and turns. First of all, the food mentions were minimal and none of them were in any way significant. I really wanted to talk about this book, though… I remembered that the main branch of the NYPL has a cafe, and so I looked that up. It's run by Amy's Bread, one of "NYC's best bakeries." I discovered that Amy's Bread has a few cookbooks, so I immediately requested those from the library. I thought, "Now is the time to make some bread!"
But then, while waiting on the cookbooks to arrive, I looked at the library cafe's menu and noticed the Classic Black and White Cookie. Upon further research, I discovered that Amy's Bread's black and white cookie is considered one of the best in NYC. I haven't had one of those cookies in forever — not since living there myself — and got really excited to make (and eat) them. When the cookbooks came, however, imagine my disappointment that the cookies weren't included.
So, I did a lot of internet digging, but ultimately reached out to my best friend and an old neighbor (both of whom live on Long Island) to see if either of them had a go-to black and white cookie recipe. Thankfully my neighbor did! She said she had saved it from a newspaper years ago and had made it and remembered them being very good. I was excited to give them a try!
First, I combined my butter and sugar in a large mixing bowl until they were fluffy. Then I added the eggs, milk, and extracts, mixing again until smooth.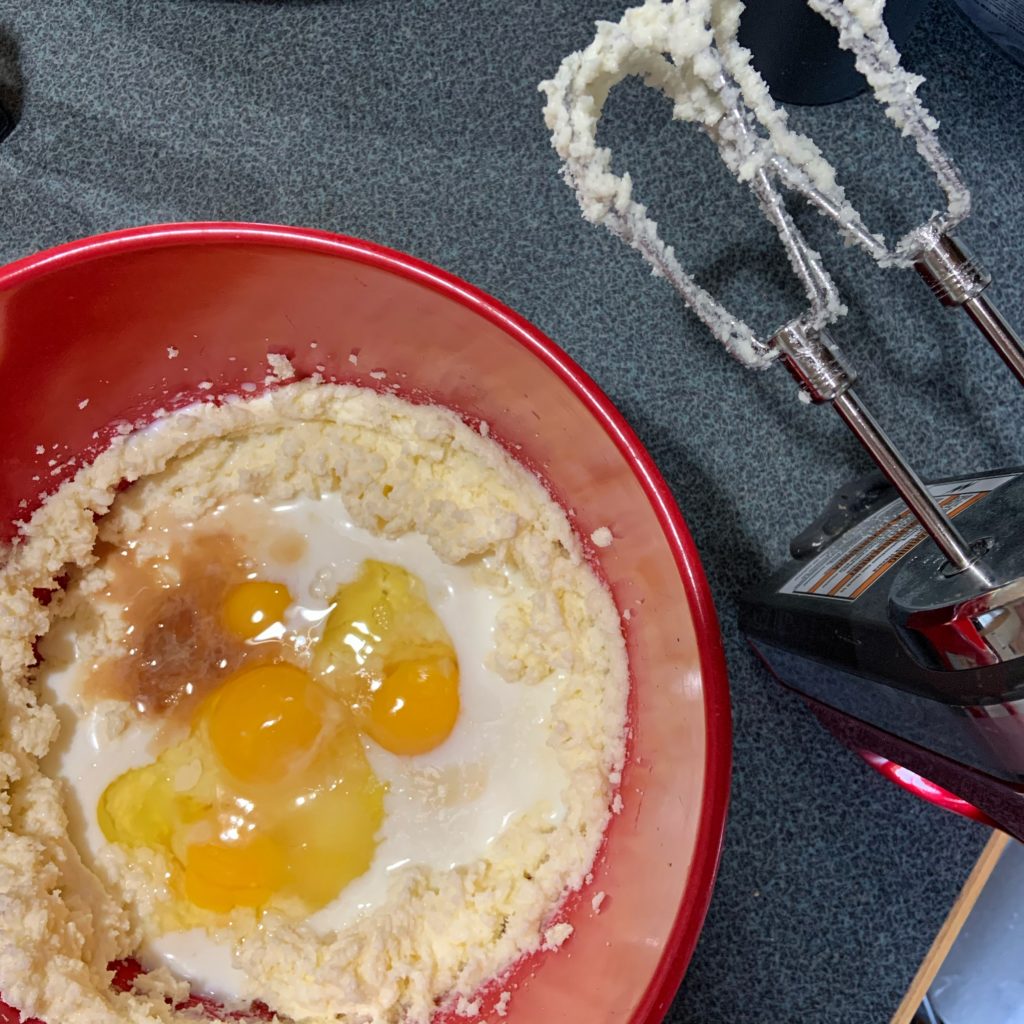 In a separate bowl, I combined the dry ingredients, and then I added them into the wet ingredients in batches.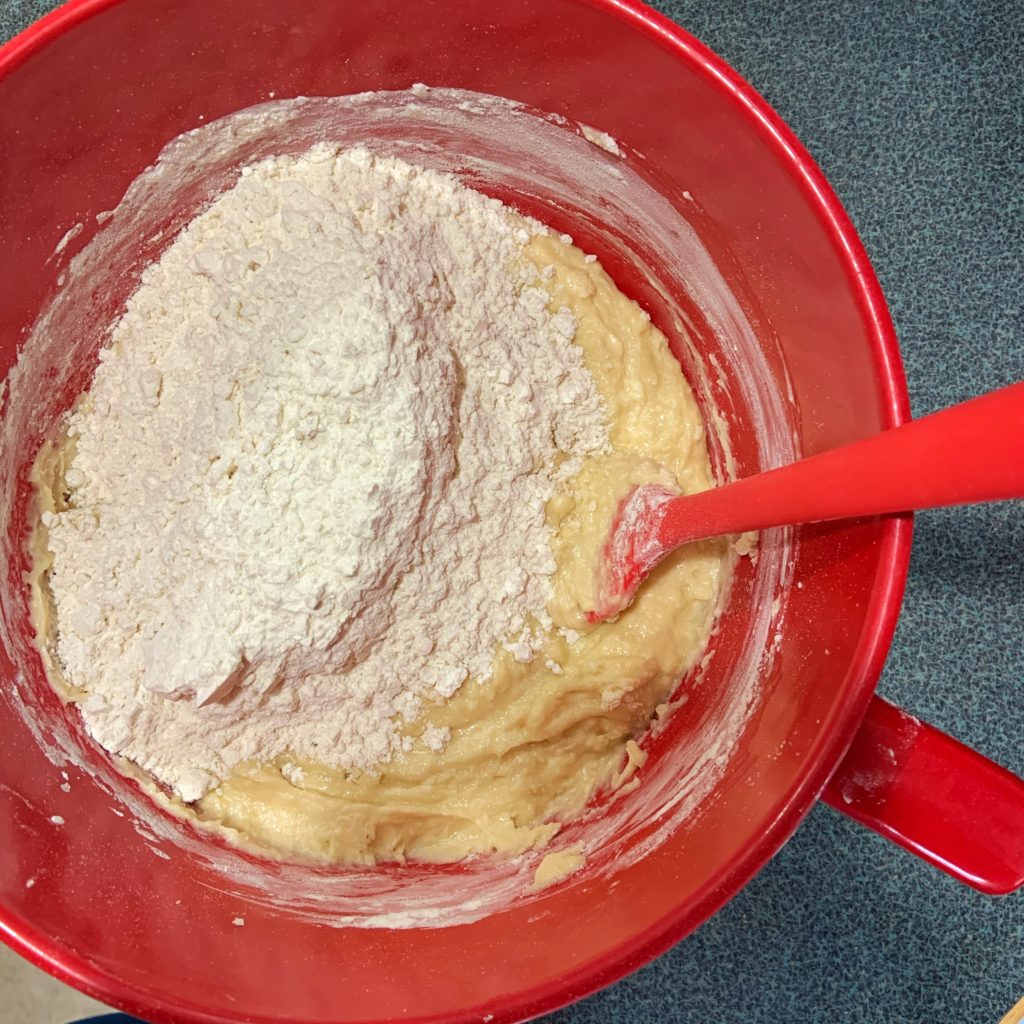 Once all ingredients were well-combined, I began scooping them onto a greased cookie sheet using an ice cream scoop.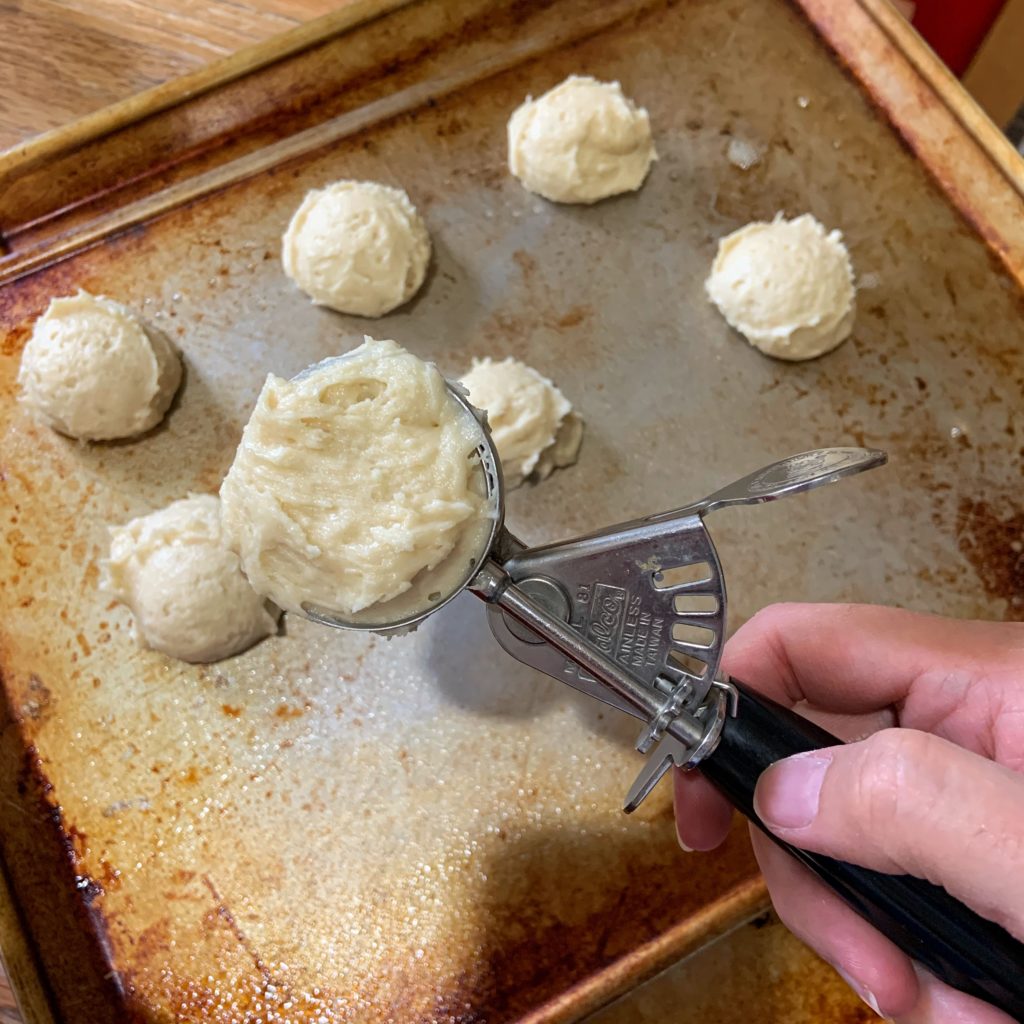 I baked for about 15 minutes. The recipe says 25-30 minutes, but it also said it would make 2 dozen, and I made 3 dozen, so I think my scoops were too small. After 15 minutes they were definitely ready to come out of the oven — I'm glad I checked them!
I guess I didn't snap a picture but the edges should be just golden brown when they're ready to come out. They'll also have risen a bit in the middle so you get a bowed effect. If you're unfamiliar with these cookies, you frost them on the bottom and they don't quite lay flat, which honestly makes up for small sins if you're not a perfect baker.
I removed them from the cookie sheets onto a wire rack to cool. (Because they are a cakelike cookie, a wire rack could leave marks… mine didn't but something to potentially be aware of.)
After the cookies were completely cooled — it's important not to be too eager here — I made the frosting. You combine powdered sugar and boiling water, mixing until a white frosting forms. Then, you remove half the frosting and add melted chocolate to just one half of it, so you have both a black and white frosting ready to go.
First, I did all of the white frosting, on just half of each cookie. I was nervous it would be hard, but it was much easier than I expected. It's important to get your consistency correct so it's thin enough to spread but not so thin that it's drippy. It seemed to set quite quickly, so by the time I was done with the white halves, it was time for the chocolate/black halves.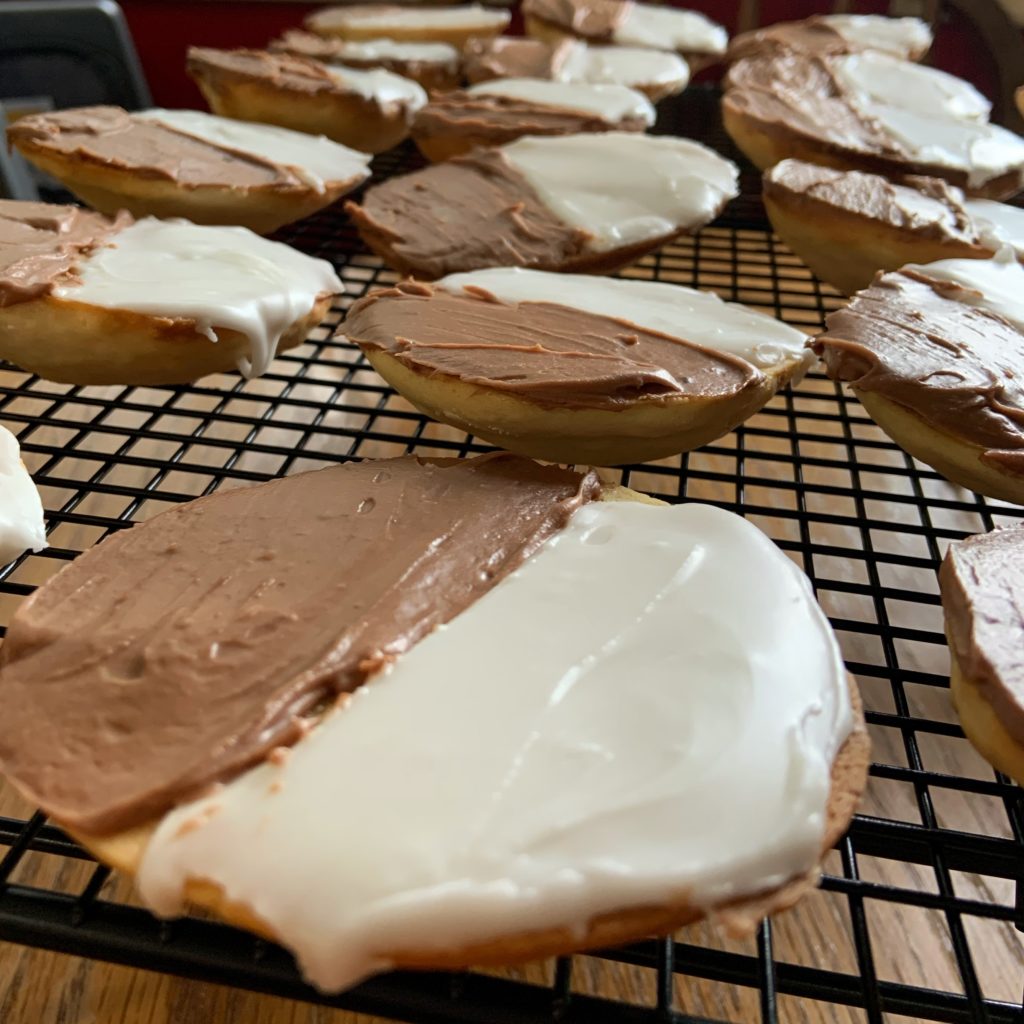 I guess my primary disappointment with these was that the chocolate half of the frosting wasn't as dark as it has been when I've bought them at bakeries… I'm not really sure what to do about it. But it certainly didn't take away from the flavor. They're probably not quite Amy's Bread's version, but they were still really good! I'm so thankful to my LI neighbor for the recipe.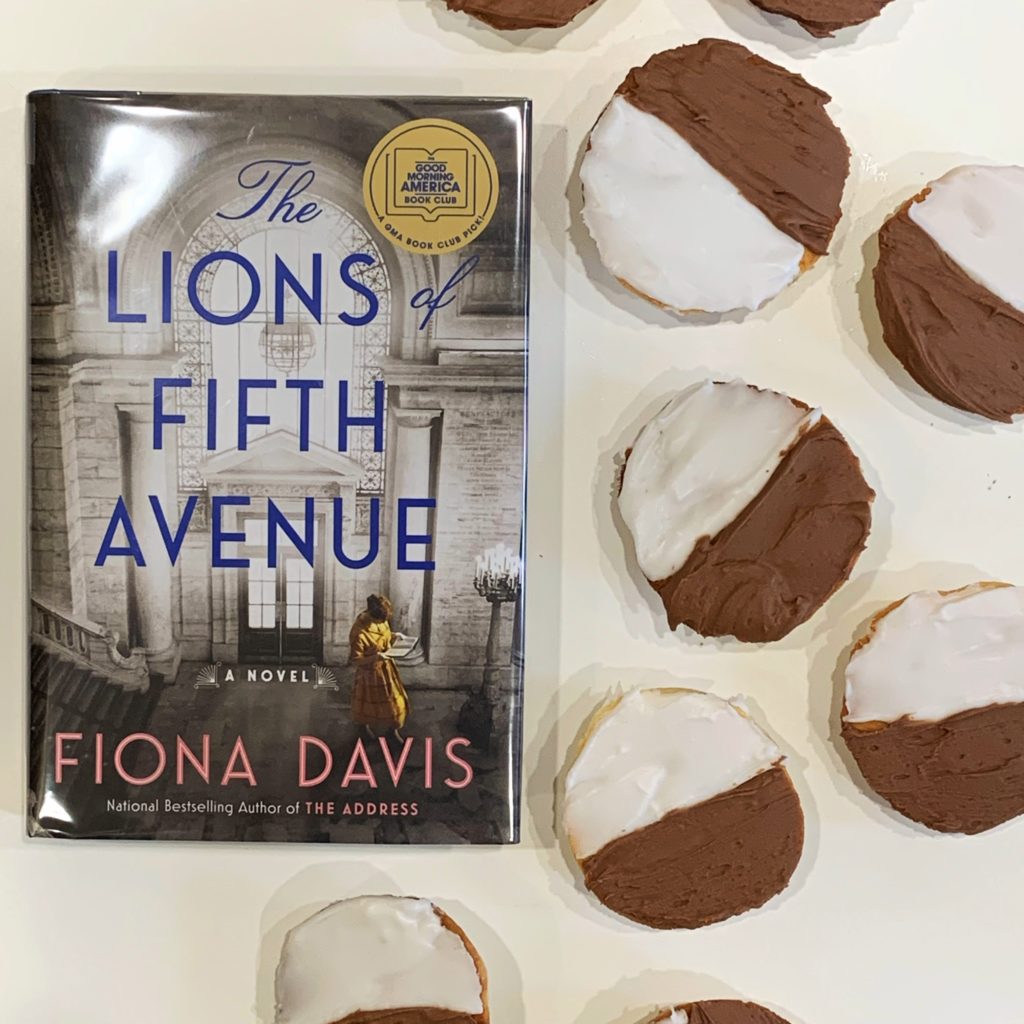 They are certainly a cookie that screams NYC, just like the New York Public Library, so they are a wonderful accompaniment to a very New York-centric story.
Black and White Cookies
Ingredients
For the cookies
1 3/4

cups

sugar

1/2

pound

butter

2 sticks

4

eggs

1

cup

milk

1/2

teaspoon

vanilla extract

1/4

teaspoon

lemon extract

2 1/2

cups

cake flour

2 1/2

cups

all-purpose flour

1

teaspoon

baking powder

1/2

teaspoon

salt
For the frosting
4

cups

confectioners' sugar

1/3 to 1/2

cup

boiling water

1

ounce

bittersweet chocolate

melted
Instructions
In a large mixing bowl, combine the sugar and butter until fluffy.

Add the eggs, milk, vanilla and lemon extracts and mix until smooth.

In a medium bowl, combine flours, baking power and salt.

Add the dry ingredients to the wet in batches stirring well.

Drop soup spoonfuls (or medium-sized ice cream/cookie scoop) of dough 2 inches apart on butter baking sheets.

Bake at 375 degrees until edges begin to brown, 20 to 30 minutes.

Let cool completely.

To make frosting, put confectioners' sugar in a bowl. Stir in enough water to make the mixture thick and spreadable. Remove half the frosting to another bowl. Add melted chocolate and still till smooth. Frost half the cookies with chocolate frosting and the other half with white frosting.
I'd love to hear from you!
What's your favorite book about books? And what's your favorite cookie?
Let me know in the comments below.
---
This post contains affiliate links. This does not increase the price you pay, but I may receive a small commission for any products you choose to buy. Purchases made through affiliate links help to cover my blogging costs. Thank you for helping to support The Hungry Bookworm! Full disclosure here.